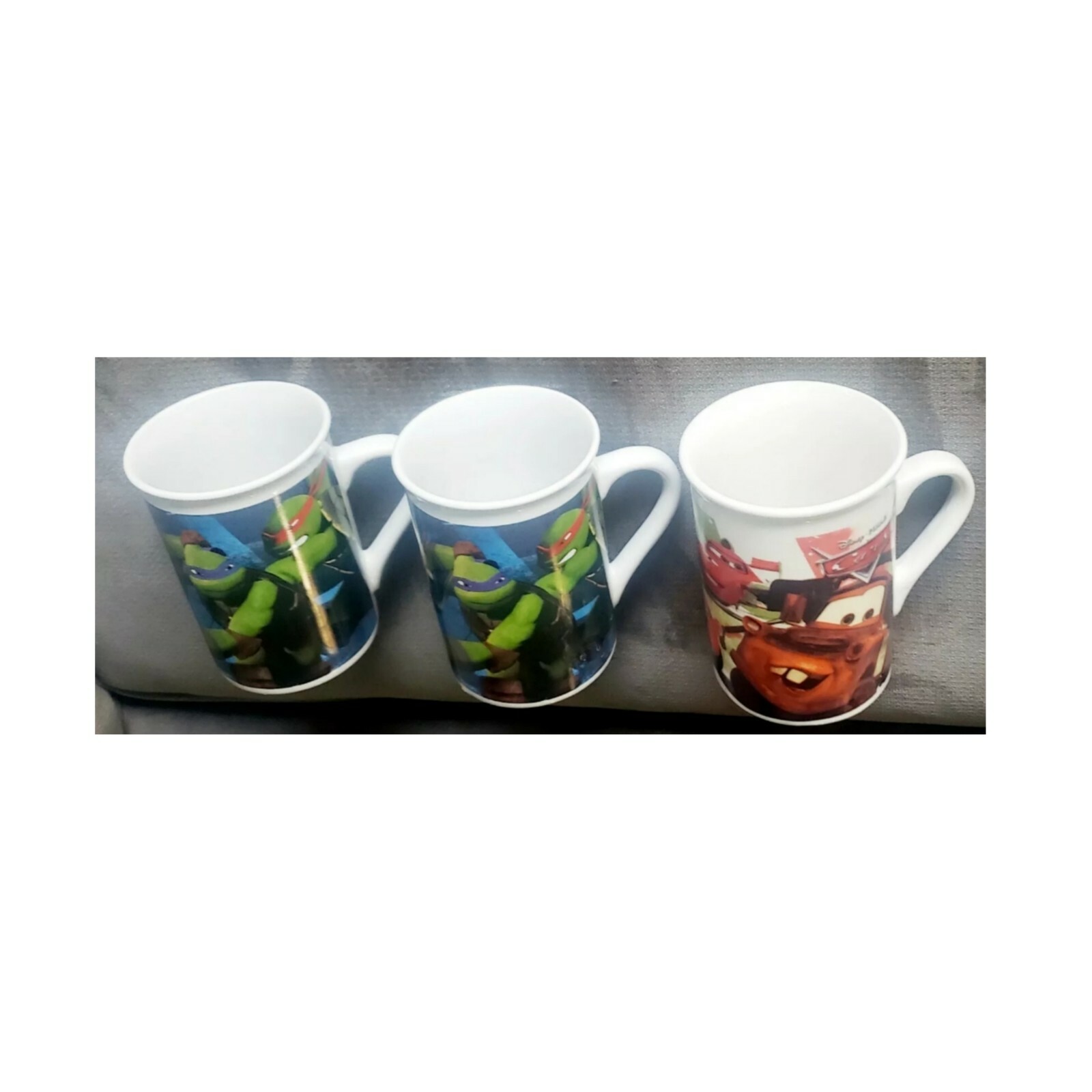 Price: 10.98 USD
Comic Book Details:
2 Teenage Mutant Ninja Turtles+1 Cars Coffee Cups Mugs Toy Kids Gift Xmas Fun !
FREE SHIPPING IN THE USA!!!  USA SELLER – SHIPS OUT WITHIN 1 DAY AFTER ORDER
Lot of 3 Mugs: 2014 Teenage Mutant Ninja Turtles Coffee Cup Mug Viacom and 1 Cars Disney Pixar Mug by Frankford Candy LLC
4″ Tall
No chips or cracks, clean!
---
SOME GENERAL INFO ABOUT THE Teenage Mutant Ninja Turtles
From Wikipedia, the free encyclopedia
Jump to navigationJump to search
This article refers to the franchise
Teenage Mutant Ninja Turtles
Teenage Mutant Ninja Turtles (Kevin Eastman's art).jpg
Art by Kevin Eastman
Created by Kevin Eastman
Peter Laird
Original work Teenage Mutant Ninja Turtles (Mirage Studios)
(1984)
Owned by ViacomCBS (via Nickelodeon)[1]
Print publications
Comics
Teenage Mutant Ninja Turtles (Mirage Studios)
(1984–2015)
Teenage Mutant Ninja Turtles Adventures
(1988–1995)
Teenage Mutant Ninja Turtles (Dreamwave Productions)
(2003)
Teenage Mutant Ninja Turtles (IDW Publishing)
(2011–present)
Comic strip(s) Teenage Mutant Ninja Turtles (comic strip)
(1990–1997)
Films and television
Film(s) Teenage Mutant Ninja Turtles in film
(1990–present)
Television series Ninja Turtles: The Next Mutation
(1997–1998)
Animated series
Teenage Mutant Ninja Turtles (1987 TV series)
(1987–1996)
Teenage Mutant Ninja Turtles (2003 TV series)
(2003–2010)
Teenage Mutant Ninja Turtles (2012 TV series)
(2012–2017)
Rise of the Teenage Mutant Ninja Turtles
(2018–present)
Direct-to-video Mutant Turtles: Superman Legend
(1996)
Games
Role-playing Teenage Mutant Ninja Turtles & Other Strangeness
Video game(s) List of video games
Miscellaneous
Toy(s) Teenage Mutant Ninja Turtles action figures
Characters List of characters
The Teenage Mutant Ninja Turtles (often shortened to the TMNT or Ninja Turtles) are a fictional superhero quartet of teenage anthropomorphic turtle ninja[a] that appear in a self-titled franchise consisting of comic books, animated children's cartoons, feature films, and other tie-in products. The characters were created in 1984 by comic book writer-artist team Peter Laird and Kevin Eastman, who named the four turtles after Italian Renaissance artists, and published the characters' adventures in comic books published by Mirage Studios. Within their stories, the turtles were trained in the Japanese martial art of ninjutsu by their adoptive father, Splinter, an anthropomorphic rat sensei. From their home in the sewers of New York City, they battle petty criminals, evil overlords, mutated creatures, and alien invaders while attempting to remain hidden from society. [2] During the peak of the franchise's popularity in the late 1980s and early 1990s, it gained worldwide success and fame.
Main characters
Main article: List of Teenage Mutant Ninja Turtles characters
Leonardo (Leo) – The tactical, level-headed, quiet, courageous leader and devoted student of his sensei, Leonardo wears a blue mask and wields two swords. As the most conscientious of the four, he often bears the burden of responsibility for his brothers, which commonly leads to conflict with Raphael. Leonardo was named after the Italian polymath, painter, engineer, inventor, writer, anatomist, and sculptor, Leonardo da Vinci.
Raphael (Raph) – The team's antihero, Raphael wears a red mask and wields a pair of sai. He has an aggressive nature, and seldom hesitates to throw the first punch. He is often depicted with a New York accent. His personality can be fierce and sarcastic, and he oftentimes delivers deadpan humor. He is intensely loyal to his brothers and sensei. He is named after the Italian painter and architect of the High Renaissance, Raphael.[9]
Donatello (Donnie or Don) – The scientist, inventor, engineer, and technological genius, Donatello wears a purple mask and wields a bo staff. Donatello is a calm turtle, preferring to use his knowledge to solve conflicts, but never hesitates to defend his brothers. He is named after the early Renaissance Italian artist and sculptor from Florence, Donatello.
Michelangelo (Mikey or Mike) – The optimistic teenager of the team, Michelangelo is a free-spirited, relaxed, goofy, mischievous, jokester known for his love of pizza and kind-hearted nature. Michelangelo wears an orange mask and wields a pair of nunchaku. He provides the comic relief, though he still has an adventurous side. The immature of the four Turtles, he shows characteristics of a "surfer" type and is often depicted with a Southern Californian accent. He is named after the Italian Renaissance painter, sculptor, architect, poet, and engineer, Michelangelo. His name was originally misspelled "Michaelangelo" by Peter Laird and Kevin Eastman.[9]
Splinter – The Turtles' sensei and adoptive father. In the original comics, Splinter is a Japanese mutant rat that learned the ways of ninjutsu from his owner and master, Hamato Yoshi. His name and character are a parody of the Marvel Comics character Stick, who trained Matt Murdock/Daredevil. For the 1987 TV series, Splinter's origin was changed so he is Hamato Yoshi himself mutated into a humanoid rat. In the IDW comics, he is Hamato Yoshi reincarnated as a mutated rat. Other versions usually follow one of these origins.
April O'Neil – A former lab assistant to the mad scientist Baxter Stockman, April is the plucky human companion of the Turtles. April first met the Turtles when they saved her from Baxter's Mouser robots. She embarks on many of the Turtles' adventures and aids them by doing the work in public that the Turtles cannot. In the 1987 TV series, Archie Comics series, the first three films, and the 2014 film reboot, April is a television news reporter. In the 2007 CGI film, she and Casey Jones own a shipping firm. In the 2012 series, April is a teenager who is rescued by the TMNTs and later given some "crash courses" in being a ninja by Splinter.
Casey Jones – A vigilante who wears a hockey mask to protect his identity, Casey Jones has become one of the Turtles' closest allies, as well as a love interest to April. Casey first encountered the Turtles after having a fight with Raphael. He fights crime with an assortment of sporting goods he carries in a golf bag, such as baseball bats, golf clubs, and hockey sticks.
The Shredder – A villainous ninjutsu master clad in armor called Oroku Saki, he is the leader of the Foot Clan, an evil ninja clan (the followers of the Foot Clan aren't necessarily evil, as it appears that they are brainwashed local youth of all races that are tasked with carrying out illegal deeds of a mysterious higher order). In every incarnation of the TMNT franchise, he has been the arch-enemy of the Turtles and Splinter as well as the main antagonist in most installments of the franchise.
Foot Soldiers/Ninja – The ninja of the Foot Clan who work for the Shredder.
Karai – A female high-rank member of the Foot Clan, she has appeared in several different TMNT comics, cartoons, and films, as well as in multiple video games. In her original appearance, she was a commander on the same level as Shredder while in some of her later incarnations of the character, she is closely related to Shredder, as his adoptive daughter and sometimes biological granddaughter, as well as second-in-command. In most works, she shares an ambiguous rivalry with Leonardo, which occasionally even borders on romantic interest.
Baxter Stockman – Baxter Stockman is a scientist and inventor who often acts as an enemy to the Turtles in various incarnations. He is known as the inventor of the mouser robots that appear in many versions, and is often depicted as allied with the Foot Clan, Krang, or going on his own.
Krang – Krang is a small brain-like alien warlord who often appears as one of the main villains of the franchise alongside The Shredder. The character was originally inspired by the Utroms, an alien race from the original comics, while in later versions he is a member of the Utroms. In some incarnations Krang teamed up with Shredder while some versions have them as rivals for conquest.
Bebop and Rocksteady – A criminal duo of a mutant warthog and rhinoceros, respectively, who were originally two human thugs who become the Shredder's henchmen in some versions. They are usually depicted as super-strong but not very smart and often serve as comic relief.
ABOUT Cars (film)
From Wikipedia, the free encyclopedia
Jump to navigationJump to search
This article is about the 2006 Pixar film. For the franchise, see Cars (franchise).
Cars
Cars 2006.jpg
Theatrical release poster
Directed by John Lasseter
Produced by Darla K. Anderson
Screenplay by
Dan Fogelman
John Lasseter
Joe Ranft
Kiel Murray
Phil Lorin
Jorgen Klubien
Story by
John Lasseter
Joe Ranft
Jorgen Klubien
Starring
Owen Wilson
Paul Newman
Bonnie Hunt
Larry the Cable Guy
Music by Randy Newman
Cinematography
Jeremy Lasky
Jean Claude Kalache
Edited by Ken Schretzmann
Production
companies
Walt Disney Pictures
Pixar Animation Studios
Distributed by Buena Vista Pictures Distribution
Release date
May 26, 2006 (Lowe's Motor Speedway)
June 9, 2006 (United States)
Running time 117 minutes[1]
Country United States
Language English
Budget $120 million[1]
Box office $462 million[1]
Cars is a 2006 American computer-animated comedy film produced by Pixar Animation Studios and released by Walt Disney Pictures. The film was directed by John Lasseter from a screenplay by Dan Fogelman, Lasseter, Joe Ranft, Kiel Murray, Phil Lorin, and Jorgen Klubien and a story by Lasseter, Ranft, and Klubien, and was the final film independently produced by Pixar after its purchase by Disney in January 2006. Set in a world populated entirely by anthropomorphic talking cars and other vehicles, the film stars the voices of Owen Wilson, Paul Newman (in his final acting role), Bonnie Hunt, Larry the Cable Guy, Tony Shalhoub, Cheech Marin, Michael Wallis, George Carlin, Paul Dooley, Jenifer Lewis, Guido Quaroni, Michael Keaton, Katherine Helmond, John Ratzenberger and Richard Petty, while race car drivers Dale Earnhardt Jr. (as "Junior"), Mario Andretti, Michael Schumacher and car enthusiast Jay Leno (as "Jay Limo") voice themselves.
Cars premiered on May 26, 2006 at Lowe's Motor Speedway in Concord, North Carolina and was theatrically released in the United States on June 9, 2006 to generally positive reviews and also received commercial success, grossing $462 million worldwide against a budget of $120 million. It was nominated for two Academy Awards including Best Animated Feature, but lost to Happy Feet (but won both the Annie Award for Best Animated Feature and the Golden Globe Award for Best Animated Feature Film). The film was released on DVD on November 7, 2006 and on Blu-ray in 2007. The film was accompanied by the short One Man Band for its theatrical and home media releases. The film was dedicated to Joe Ranft, the film's co-director and co-writer, who died in a car crash during the film's production.
The success of Cars launched a multimedia franchise and a series of two sequels and two spin-offs produced by Disneytoon Studios, starting with Cars 2 (2011).
THANKS FOR LOOKING!!