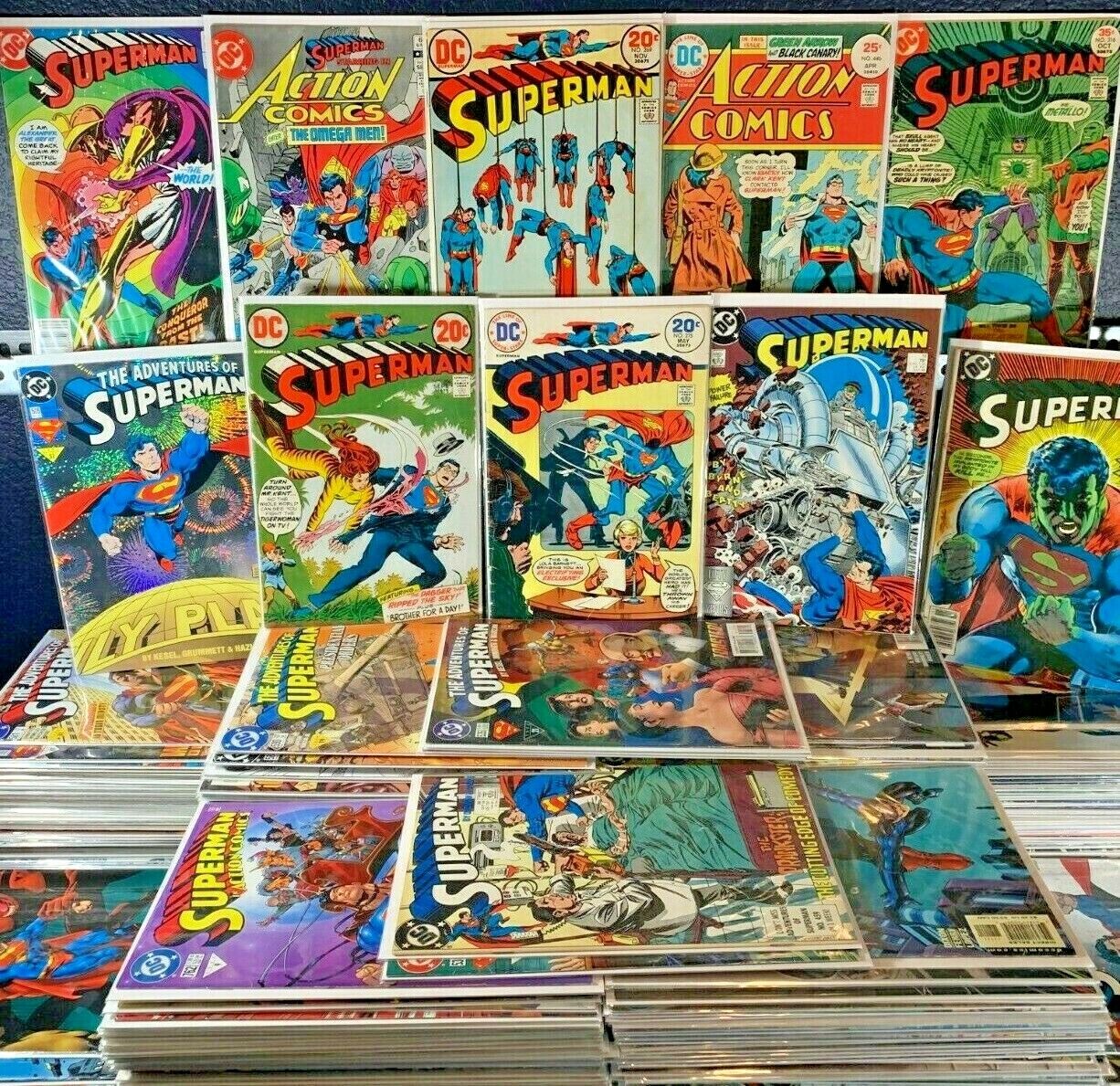 Price: 325.00 USD
Comic Book Details:
220 Comic Lot ALL SUPERMAN! Man of Steel Adventures Action Comics 1 2 3 4 5 6 +!
DC Comics
All 220+ Comics: All Superman!
Many different superman comic titles, including:
Action Comics Presents Superman
Superman: Man of Steel
Adventures of Superman
Superman New 52
Superman Rebirth
And Many Many More+
Please see pictures of the exact lot of 220 comics that will be sent. The books were published between 1960 and 2020. 
Approx. 20 books from 1960 to 1975
 Approx. 25 books from 1975 to 1990
 Approx 75 from 1990 to 2005
 Approx 100 from from 2005 to 2020
Every book is 100% complete and on staples. Overall, the average grade is VF/NM 9.0 with a range of 4.0 to 9.8 across all 225 books. 
More Specific Grading by Age: Most of the books published from 1960 to 1989 are in VG to F/VF range. Most of the books published from 1990 to 2020 are NM to NM+. 
The books will be freshly bagged/boarded exactly as pictured. The books have been packed in groups of 20 (see pictured). Those bundles will be then be placed in a thick cardboard box with cushioning.
~Extreme Care in Shipping~
The book will be sealed in plastic with cushioning and shipped in thick cardboard box. I take extreme care in shipping. The book will arrive in the condition pictured.
Payments are secure.
I sincerely want you to be happy with your purchase. Please check my feedback and know that you can buy with confidence.
Check my eBay Store for more comics, books, science fiction, fantasy, role-playing and assorted awesomeness!
Love,
The Professor