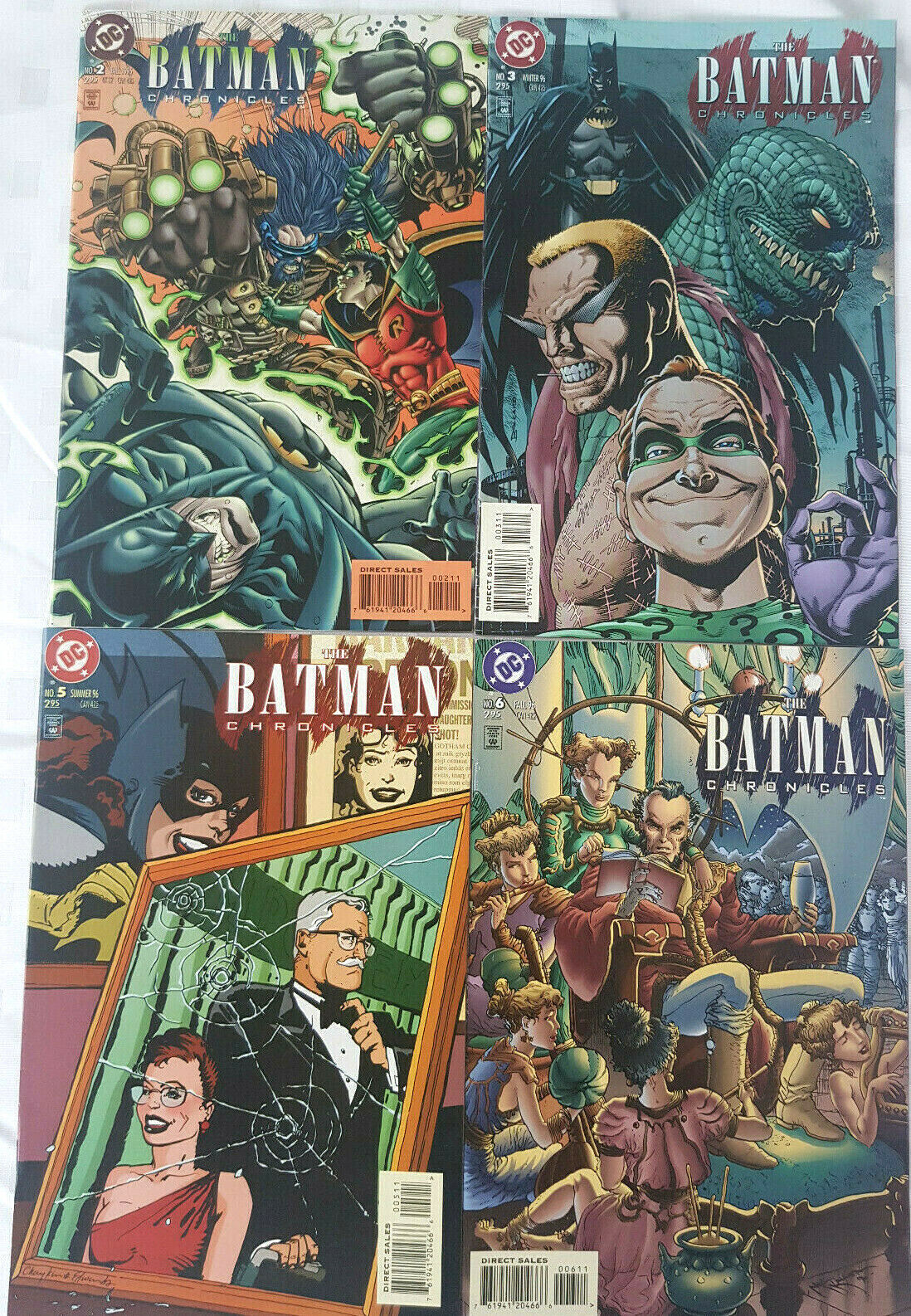 Price: 13.52 USD
Comic Book Details:
4 Batman Chronicles Back Issues – DC Comics 1996 "Complete Short Stories"




Buy
with confidence.  Check out the feedback.  I will not let you down. 
Item Description
This is 4 Batman comic back issues as shown in the pictures supplied.  #2, #3, #5 & #6.   Contains lots of complete Batman short stories.  Comics are standard size editions in full colour.  Comics will be collectively bagged and shipped with cardboard to protect.  Package will have a "Do Not Bend" in red ink stamped on the front and back.
Check out the complete sets and collections sections of my eBay store.
Condition 
The comics are complete, look great and are in the Very Fine to Near Mint – 9.0 condition area.   Very nice as new looking copies that show some very, very minor wear only.  Covers are attached at both staples and are not loose in
anyway.  No coupons have been cut from the comics.  No news stand
date stamps, pen marks or pricing stickers are present on the covers.
 Pages are in great shape.  Overall these are as new looking copies that are ready for another read.
Postage 
I do combine postage. Make sure
you are logged into eBay Australia so you don't have to pay immediately and can request a combined
postage invoice.  Once you have finished buying simply request a new
invoice and I will send ASAP.  If you are forced to pay then I will refund
the difference via PayPal or other means.
International shipping – For USA, UK and New Zealand the time will be in the 7 to 14 days area.  The rest of the world it can take from 7 to 35 days depending on your local postage and customs services.  If you want fast shipping then options are available but they do cost a lot more.  Reach out to me if you want faster shipping.
Please make contact for my latest combined postage rates.  I have
best rates for up to 100 comics nationally and internationally.
Details:  I am not a
business. I do eBay for the fun and as a hobby. You can contact me any time by
using the "Contact seller" link on any of my items.
Refund policy:   If you don't agree with my grading and or are disappointed with your
purchase then please send your item back for a full refund. If the complaint is
justified I will even add the return postage amount to the refund. I will not
let you down.
As per eBay recommendations I will sort any issues with any of my items
out with you until both are satisfied. I try respond to all emails within 24
hours.
Feedback:
 I
back my items and will leave positive feedback as soon as payment is confirmed.