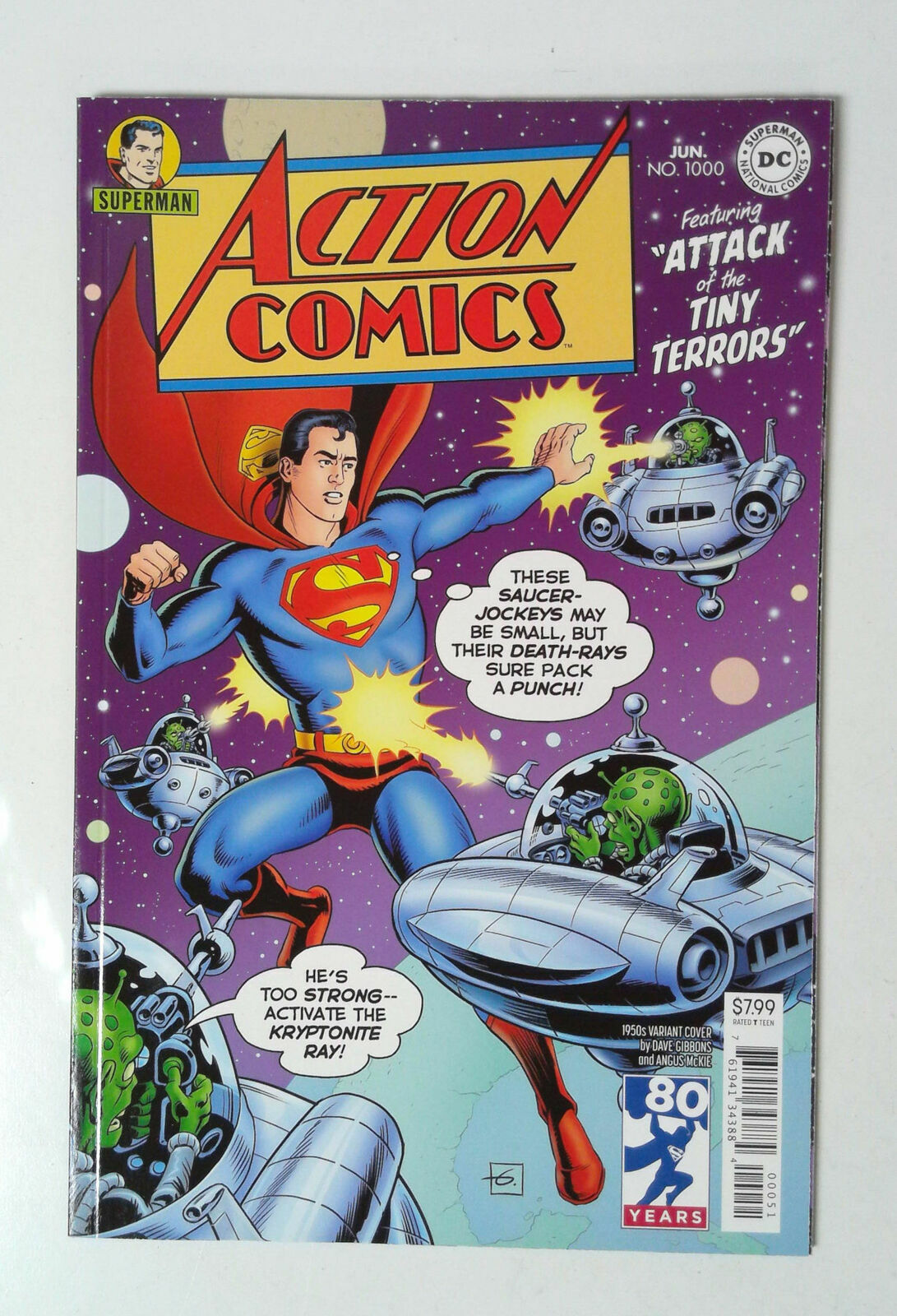 Price: 4.99 USD
Comic Book Details:
Action Comics Vol 2 #1000 DC Comics (2018) Dave Gibbons 1950s Variant Comic Book
Action Comics Vol 2 #1000 DC Comics 2018 9.4 NM Near Mint Condition Modern Age Comic Book Dave Gibbons 1950s Variant 1st Printing
Celebrate 1000 issues of Action Comics with an all-star lineup of top talent as they pay tribute to the comic that started it all! From today's explosive action to a previously unpublished tale illustrated by the legendary Curt Swan to the Man of Tomorrow's future-this very special, oversized issue presents the best of the best in Superman stories!(1940s)
Increase your comic book collection and enjoy reading this comic book featuring Dc Comics's Superman.
Our newer comic books for sale are usually* high grade, unread, mostly flat, and glossy dealer back stock. Expect a deterioration in condition for older comics.
*See the listing image(s) to get a better evaluation of the condition. Gradings, if provided, are of our personal opinion. You should NOT buy solely based on the grade. If you have any questions please feel free to ask.

Pay with Google Pay, PayPal, PayPal Credit, debit card, or most credit cards.
We ship domestically anywhere in the United States. International shipping not guaranteed. Orders usually ships out the same day or next business day. The average shipping time ranges from 2 to 9 days using USPS Media Mail.
SHIPPING PROMOTIONS – Combined Shipping – Cart Items Reduced Shipping – FREE w/ Orders > 18.95
Pay the shipping cost only once with our ongoing comic book flat rate shipping promotion. You won't pay additional shipping fees for additional comic books added to the cart. We ship out fast so orders may not ship together if payment is sent on one order and you're still shopping.
Ebay automatically excludes accepted offers from promotions and shipping discounts. We will refund qualifying purchases but payment must be made beforehand and a message must be sent to notify us.
RETURNS – CUSTOMER SATISFACTION
Please feel free to message us if you didn't receive discounts shipping or otherwise. 30 days money back guaranteed. Returns accepted and shipping will be paid by the seller.
If you have any problems whatsoever please contact us directly before leaving feedback, we always strive for five stars.
Check Out Our Other Listings
Comics
eBay Store:
Cosmic-King