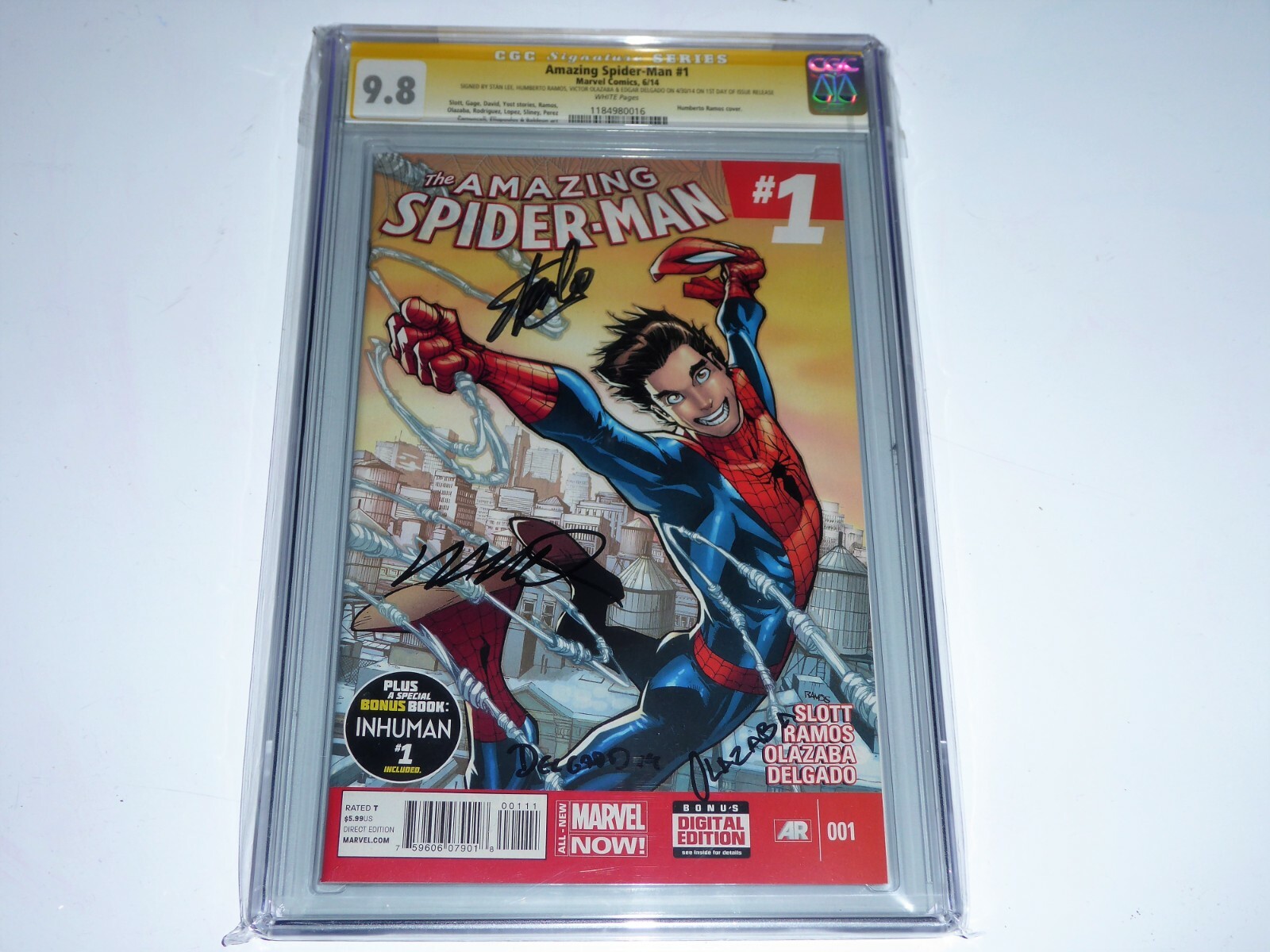 Price: 999.99 USD
Comic Book Details:
Amazing Spider-Man #1 CGC SS Signature Autograph STAN LEE 9.8 Garfield UnMasked




You are bidding on the 
CGC Signature Series Comic
 in the Title and Pictures Below.
Signed by STAN LEE, HUMBERTO RAMOS,
VICTOR OLAZABA & EDGAR DELGADO!!!
On the 1st Day of Issue Release!!!
Humberto Ramos Cover!!!
Never Seen Comic – I sell and buy rare items all the time.  

You must check out my other Auctions.  I take great pride in my store and believe its offers many 1 of a kind items.



 

Written by Dan Slott, Christos Gage, Christopher Yost, Joe Caramagna and Peter David. Art by Humberto Ramos, Javier Rodriguez, Will Sliney, Giuseppe Camuncoli, Chris Eliopoulos, David Baldeon, Ramon Perez and Victor Olazaba. Cover by Humberto Ramos. The Greatest Super Hero of All Time RETURNS! The world may have changed since Spidey's been gone, but so has Peter Parker. This is a man with a second chance at life, and he's not wasting a moment of it. Same Parker Luck, new Parker attitude. Putting the "friendly" back in the neighborhood, the "hero" back into "super hero," and the "amazing" back into "Spider-Man!" Also returning: The recharged and reenergized ELECTRO! 96 pages, full color. Cover price $5.99.




Please email with any questions or for additional pictures. Item is much nicer than the pictures above. It is just awesome! Please read the about me to get to know me better.  This Item is hard to photo so trust in my feedback that this is the Real Deal.  This hard to find Item does not come up for auction that often so make sure you get this One. Please make sure to check out my other auctions. I have many hard to find Items up for auction this week. Thanks and good luck bidding!




Please be aware that my local post office scans NOTHING when I drop it off, because of this it will give a 2-3 day delay for the tracking to update–some customers actually get the package before the tracking updates(This does NOT mean that I do not mail it out right away). Thank you for your patience, your order will still be received in a timely fashion and in the condition described in the listing, however it might take a little longer than normal for you to be able to follow the history of the package especially if you live on the West Coast. If you have any questions about this please send me a message.