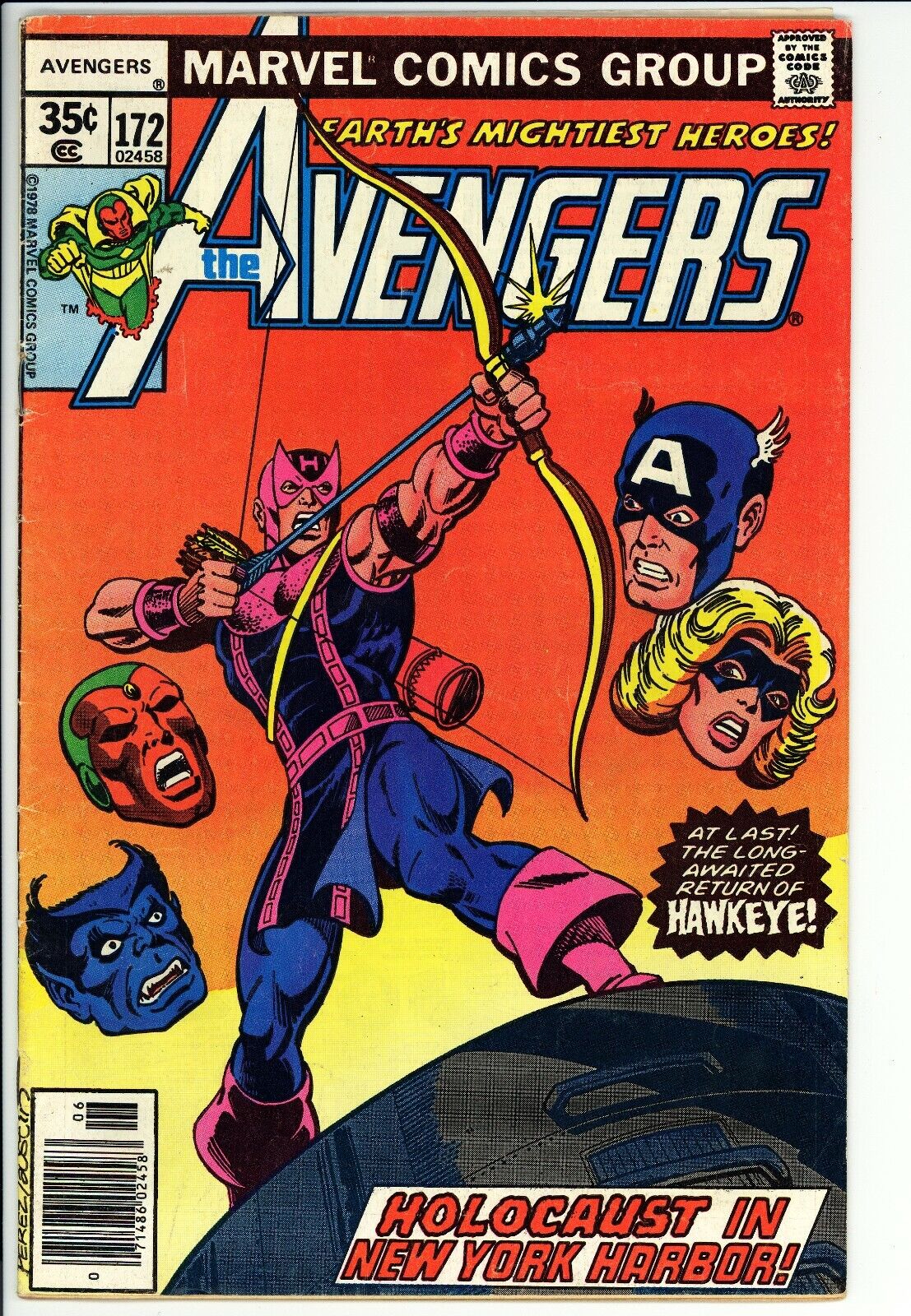 Price: 4.99 USD
Comic Book Details:
Avengers #172 VG Marvel (1978) – Hawkeye Rejoins The Avengers




Comic is in VG condition, all pages intact without any cutouts or missing pages. 
*Free shipping In the U.S. on all orders $50 or more, 10% Off 2 listings, 15% off 3+, on listings priced $100 and lower (will automatically apply at checkout when multiple items are placed in your cart)
Grading
I am not a professional comic grader, all grades are in my opinion, I only aim to give buyers a better idea of what they are getting. Overall I always aim to under promise and over deliver so I try to grade conservatively. The higher grades are where it tends to be a bit subjective so I will never advertise an ungraded comic as a 9.8 or give a set number grade to a raw comic instead I list higher grades as follows. VF-NM=9.0-9.8, VF+ 8.5-9.2. All pictures and scans are of the comics you will receive so please look them over and make your own determination on grade. 
Shipping
*As a comic collector and someone who frequently buys comics on eBay myself, I genuinely care about every comic I sell arriving just the way it was shipped and ship all items with care. Will combine shipping, free shipping in the U.S. on all orders over $50! 
Raw comics: All raw comics shipped bagged and boarded with proper protection. One to three raw comics will be shipped in a Gemini comic mailer with buyers choice of USPS First Class or USPS Priority Mail Legal Flat Rate shipping. Five to eight comics will ship in a Gemini comic mailer using USPS Priority Mail Legal Flat Rate shipping.
Graded and slabbed Comics:  All professionally graded comics will be shipped with proper protection via USPS Priority Mail.
International shipping
I will ship worldwide to any countries eligible for eBay's Global Shipping Program. I will not ship internationally using any other method. I will combine shipping for international buyers but please understand I do not have control over the price of shipping or speed it is delivered. Buyer is responsible for any additional customs or duties fees charged.
Customer Service/Contact
I strive for excellent customer service and want every customer to have a pleasant buying experience. Please reach out to me if there are any issues with your order so I can be of assistance if you have any questions. Message us on eBay or through Facebook at CoolComicsAuthority. 
Thank You!
Thanks for checking out our listing, be sure to follow our eBay store and check us out on FaceBook (CoolComicsAuthority) for the latest information and exclusive offers. New Listings Added Frequently!