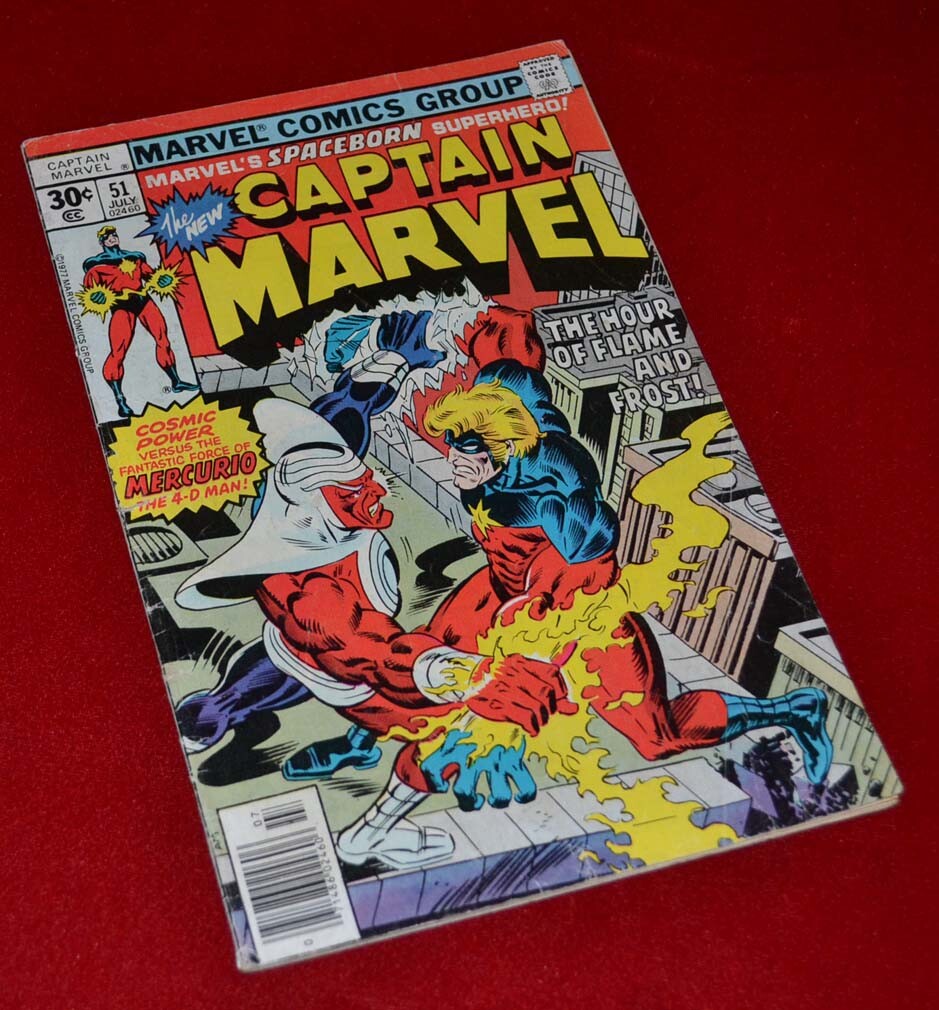 Price: 29.95 USD
Comic Book Details:
CAPTAIN MARVEL Comic #51. should grade 9.0-9.2, not CGC, 7/77





This Comic has been professionally stored
since acquiring it with white/off white pages & sharp
edges.
We are not professional graders,
but we have been collecting for 20 years and use the grading system on the ebay
site…we would grade it 9.0-9.2, but do look at the photos in our ad to help make your own determination…
A
Great piece of COMIC HISTORY

You are bidding on a beautiful RARE
Issue of Marvel's "CAPTAIN MARVEL #51" COMIC in overall good condition…nice colors, small tear on back bottom repaired with museum acid-free professional tape, white, off-white pages
inside and has not been GRADED by CGC…
We're selling several
of our COMIC COLLECTIONS on ebay that we acquired at the show in Los Angeles
this past summer and will be listing more rare Comics in our ebay store, many
signed by STAN LEE, Original Comic Art, Memorabilia & MORE!


This RARE &
Famous COMIC has been stored inside an acid free sleeve and board inside a
protective box…the
storage room was & is kept in was a dark, humidity controlled and air
conditioned year round at 72 degrees…
The small tear on the bottom back was repaired with museum acid free tape…
I am a lifetime member
and Director with the DIRECTOR'S GUILD OF AMERICA and a Registered Dealer with
the UACC (RD #228)….this is stored inside an acie-free case and is UV marked
for future identification, so please ask if you have any further questions
before bidding, since all sales are final to protect the provenance and chain of
custody of this great & unique collectible Comic…our PHOTOS are part of our AD DESRIPTION.

 A Great Original COMIC that should grade about 9.0-9.2 Condition…just ready to display or store for a future investment…INSURANCE
included with Postage Charge…buyer is responsible for any VAT or SALES Tax
that your State or Country may or may not charge.
Check out our
other auctions for great other Comics, Memorabilia, Movie Props &
Autographs, Art & MORE!
Jack M. Sell is a Registered Dealer with the
U.A.C.C. (RD#228). Mr. Sell has made national and local television appearances
on many programs as a guest expert in his field, a Member of the Manuscript
Society, Member of IADA, Member of the APIC, has over 10,000 Positive Ebay
Ratings and is a lifetime Member of the Director's Guild of America (D.G.A.)
& has been directing TV & Film for over 30 years with NBC, Tribune
Entertainment, USA Network, FOX Family Network & HBO, so please buy with
confidence…we are proud that some of our memorabilia was on display in the
SMITHSONIAN, Washington, D.C.
HERE'S JUST A SAMPLE OF
WHAT SOME OF OUR EBAY BUYERS HAVE TO SAY ABOUT US:

ranstra
"Praise: FAST DELIVERY!! ITEM BETTER THAN DESCRIBED!!!"


18442 "Praise: Great item!!
SUPERFAST INTERNATIONAL SHIPPING!!!!!!! Highly recommended seller!!"


heimdell51 "Praise: Great guy; very
prompt & efficient service & exc. packaging; got a free bonus too!"


btbandabbermake3s "Praise: Fantastic
items, 30 stars, bid with utmost confidence asset to ebay. Thanx Jack"


momosroswell "Praise: Wonderful
item! Thanks for a smooth, quick transaction. Great communication!"


docfsk100 "Praise: Excellent,
Danke"

austinpowheinybeer "Praise: GREAT
GREAT GREAT!! Makes ebay great place to shop!!"

toothfella "Thanks for the super
helmet Jack! Hope to do business again."

jimsoden "Praise: Great packing,
good emails, very generous with his time and effort, class act!!!"


circus10 "Praise: Fabulous costume,
vintage RBBB. Great transaction! Thank you, Jack."

belfast "Praise: Wonderful Ebayer
(& with genuine COA's too!) A+++"

A GREAT Rare COMIC that
you will rarely find in the marketplace.
Comics, Artwork,
Autographs & Props are becoming one of the fastest growing assets in the
world…..a real "One of a Kind" FIND and Conversation Piece!

Check out our other
auctions for more great COMICS, plus Autographs, Art, Props, Costumes &
More!

This could be a GREAT
INVESTMENT for COMIC
& CAPTAIN MARVEL Collectors!

We are not professional graders,
but we have been collecting for 20 years and use the grading system on the ebay
site…we would grade it 9.0-9.2 Condition…
We ship via U.S. Post
Office. Everything is Insured with Delivery Confirmation…we use the very best
packing materials, usually bubble-wrapped with peanuts and/or double boxed when
necessary.
FASSSST Shipping
WORLDWIDE…