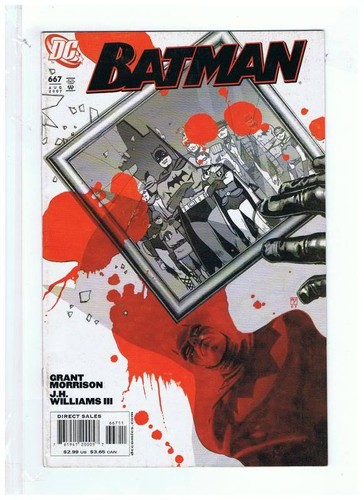 Price: 6.85 USD
Comic Book Details:
DC Comics Batman #667 VF/NM- 2007




Please visit my Store by Clicking on the link Below. I Have 1000's of  Comics listed including most Major Titles such as Batman, Superman, Flash, Thor, Hulk, Fantastic Four, Capt. America, Phantom Etc Etc and will be listing more in the coming weeks. Even through some of the comics are listed in groups,  I will sell individually if you contact me.


Bid with confidence with over 50000 comics sold  
WILL SELL SHOP ITEMS SEPERATELY
Feedback received for this item

 

petermcg

 

200109762601

AUSTRALIAN BUYERS

Praise : The best ever seller with the best range of comics I've ever found on eBay. A+++

sam_kel
200108868066
Praise : Good. Reliable and quick postage. Well, packaged.
black_cbr
200109762398
Praise : Recommended seller – great communication,care taken with items A+++
blanks244
200108588629
Praise : JUST AWESOME!! A great comic as described. A professional and reliable seller!
weird_kat
200095035659
Praise : Awesome service. Fast & efficient, packaged safely in bubblewrap and cardboard.
nightwing984
200104474661
Praise : excellent communication and fast delivery I'd glaldy deal with this seller again
scarfacemontana02
6568792166
Praise : Fast Posting and Items are in Perfect condition. Very well Packaged. Top Seller.
brickoz
200105045598
Praise : Great seller. Fast shipping and well packed.
mrmegalo2002
6634084056
Praise : great. well packed and speedy delivery too
g.c.f
200105042260
Praise : Posted quickly and received in excellent condition.
hinton452
200053952993
Praise : great ebay seller. good communication and fast delivery A+++
mutt6017
200081547583
Praise : Great seller, good communication, recommend absolutely.
theatrepaul68
200065907355
Praise : Excellent reliable seller. Buy your comics from this man!
superdal71
200100820813
Praise : Great ebayer,excellent service.Recommended.10/10
burial84
200099583369
Praise : prompt delivery, item as described, very reasonable postage cost
margieian
200063320916
Praise : guru of all things comic
vampires_suck
6588561081
Praise : Excellent seller, fast delivery
capedconkerer
200088997671
Praise : great communication, everything arrived as promised and promptly
timmyh77
200082249985
Praise : Great comics and good communication. Thanks again AAA+++
heroes_and_villains
200058318392

Praise : Great seller. Would do business with again AA++

 

 

inspector-keller

 

 

200065461051

 

INTERNATIONAL BUYERS

Praise : SUPER Fast and excellent service.Will buy again,GREAT SELLER++++++++++++++++++++ (Greece)

wil4420
200103833424
Praise : Excellent purchase. Genuine postal charges. Very pleased. (USA)
jaolane
200077606808
Praise : Excellent. A great seller with a great service. A real pleasure. 20/20 (France)
rander01
200108271949
Praise : Comics safely packed, accurately described, shipped quickly (USA)
steino767
200059504272

Praise : great trader great trade A+++++++ (NZ)

cimomnow
6569333991
Praise : Incredible comics, fast shipping – many thanks! (USA)

my_tallest

200060713759

Praise : Perfect seller , a pleasure to deal with. (UK)

tamarindchess

200057156533

Praise : Great Comics, Great Service (Hong Kong)

mellvillefurst60

6545111774

Praise : Fast Delivery, Excellent Packaging & Communication (Brazil)

Petermoerenhout

200060713900

Praise : Very Fast Postage, Comics In Great Condition (Belgium)

deranged_hermitmagic

660079165

Praise : Everything Perfect AAA+++ (Canada)

terje9688

6629556188

Praise : Comics in great condition, Well Packed & fast delivery AAA+++ (Norway)

Genthar

6625016883

Praise : Great seller, Fast Shipment, Well Packaged A+ (Ireland)

raitcho03

6589568728

Praise : Perfect ebayer Reccomend to all international buyers. (Bulgaria)

hmustone

660081135

Praise : Well Packages, Fast Delivery AAA++++++++++++ (Finland)

tonino999

6545129572

Praise : Excellent International Transaction AAA+ (Spain)

gullivarsvartur

6578244983

Praise : Fast Shipment, Excellent Seller AAA++++ (Iceland)

Sankor1969

6576057561

Praise : Excellent Service, Quick & Reliable, Reccommended Ebayer. (Sweden)

noelbynature

6569813732

Praise : Great seller, Fast Delivery, Great Condition, highly Rec (Singapore)
Click to See Larger Picture of Cover
Click to see Larger picture of Back Cover 
Pages: 36
Printed:  Aug 2007
Publisher:  DC
Writer: Grant Morrison

Art: JH Williams lll

Letterer: Ken Lopez

Colourist: Dave Stewart

Editor:  Peter Tomasi

Condition: Is in VF/NM- Condition. A little general wear. Dirty. Back Cover:  A little general wear. Inside:  Pages white. Overall a excellent copy of a rare comic.
AUSTRALIAN BUYERS WISHING TO PAY BY BANK DEPOSIT PLEASE LET ME KNOW AND I WILL SEND THROUGH DETAILS
REFUNDS
I back my items and will leave positive feed back as soon as payment is confirmed. Not once you have left feed back similiar to some ebay sellers.
IF there is a problem please contact me if you have a legitimate Gripe and if it is what you wish return the item and I will gladly refund your money. Why I back my grading skills (see feedback) I can make mistakes so please let me know if there are any problems.
POSTAGE
WILL COMBINE POSTAGE
I will post as soon as payment is received, or is cleared. I post everyday not just one day a week. 
All items, where possible, will be sent out enclosed in a plastic cover wraped in Bubblewrap and supported by cardboard with a large do not bend on the front and back of the parcel. I will always combine auction wins.  I will also hold items until you finish bidding on other items so you can save on postage.  Just let me know if want me to hold. 
If there are any problems please contact me and I will sort out any issues until we are both satisfied. If a postal item goes missing (It hasn't happen to me as yet but while Aus Post is very reliable it does happen occasionly). At first I will contact Aus Post and if not found will try to replace, try to offer different items, or refund as a last resort.
Australian postage charges
All items sent by normal mail unless buyer requests different service. Prices quoted below are for normal postage, if you want the parcel sent in a different way please ask and will happily accomodate.
1 standard comics = $3 Aus
2 to 3 standard comics = $4.00 Aus
4 to 8 standard comics = $7.00 Aus
9 to 45 standard comics – NSW = $10, Rest Of Australia = $12.00 
Double and triple sized editions, Trade Paperbacks, Graphic Novels, prestige formats and any other larger than normal comic books will obviously count up to several comics depending on the size.  Most comics are standard unless noted
AUSTRALIAN BUYERS WISHING TO PAY BY BANK DEPOSIT PLEASE LET ME KNOW AND I WILL SEND THROUGH DETAILS
International Bidders.
All international bidders must pay by Paypal. 

Please note. I can not except International cheques or MO'S so please do not send.

I have sold over 3000 Comics to international buyers without a problem. Please see my feed back comments.

International Shipping.
All parcels sent my normal Airmail and prices below are for Airmail

I will always wait until you have finished bidding so you can maximize combined shipping savings.

Prices quoted below are actual cost of postage plus an envelope, I'm not charging any handling costs.

International postage rates

1 to 3 Standard Comic $7 Aus ($6.90 US) to Anywhere in the world

3 Standard Comics $8 ($7.75US) to Anywhere in the world

4 to 8 Standard Comics $12 ($11.75 US) to NZ, $14 (13.70 US) to Asia/Pacific,$16 ($14.70 US) to USA/Canada, $19 ($18.60 US) to the rest of the world

9 to 12 Standard Comics $15 ($14.70 US) to NZ, $18 ($17.40 US) to Asia/Pacific, $22 ($21.50 US) to USA/Canada,$26 ($25.50 US) to the Rest of The World 
13 to 16 Standard Comics $18.50 ($18 US) to NZ, $22.50 ($22 US) to Asia/Pacific, $26.50 (26 US) to USA/Canada,$32.50 ($32 US) to the Rest of The World 
IF you wish to buy more then this Please contact me for quote
GRADING
I have tried to grade the comics as best as I can in most cases the condition will be underestimated not overestimated. If you have a issue with my grading please contact me and we will work it out.
My Grades are as  follows NM (Albout 9.8 out of 10) – VF/NM (Between 9 and 9.8 out of 10)-Very Fine (Between 8 and 9 out of 10) – Fine / Very Fine (Between 7 and 8 out of 10) – Fine (Between 6 and (7 out of 10) – Very Good / Fine (Between 5 and 6 out of 10) – Very Good Between 4 and 5 out of 10) – Good / Very Good  (Between 3 and 4 out of 10) – Good (between 2 and 3 out of 10) – Fair  (Between 1 and 2 out of 10) 
PAYMENT METHODS: Australian Buyers: Would Prefer Direct Deposit. Will Accept Cheque, MO. Will accept Paypal but prefer above methods because of costs.  International Buyers: Prefer Paypal. Can't Accept US Cheques or MO's as they cost to much to convert.
AUSTRALIAN BUYERS WISHING TO PAY BY BANK DEPOSIT PLEASE LET ME KNOW AND I WILL SEND THROUGH DETAILS
Accept no responsibility for items not insured.
Check all the other comics I have listed in my ebay store. Click on my stores name at the end of this paragraph to enter. Remember if the comic you want is grouped with other comics please contact me as I'm happy to sell individually. Dicko's Comics
---
On 09-Nov-05 at 07: 32: 10 AEDST, seller added the following information:


Powered by eBay Turbo Lister

---
On 08-Sep-13 at 02: 33: 21 AEST, seller added the following information:
Sellers: Get your own map of past buyers. Fast. Simple.