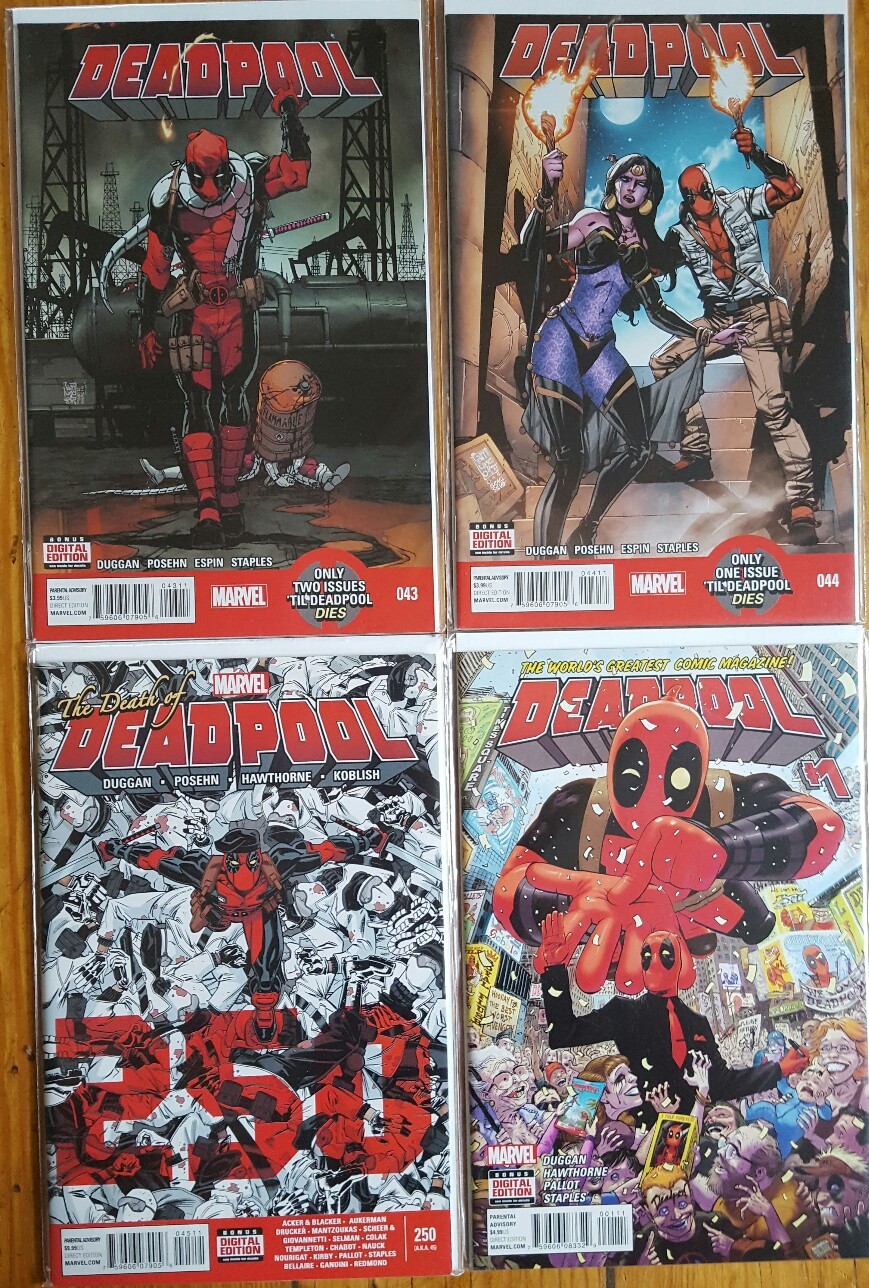 Price: 15.99 USD
Comic Book Details:
Deadpool Vol 4 – 43 44 45 (#250 Death of) & Vol 5 #1 NM 1st Print Ryan Reynolds
Offer is for a set of 4 Deapool Comics: Vol 4 Issues 43 44 45 (a.k.a. #250) and Vol 5 #1! Each issue is brand new, unread, Near Mint. Comes sealed in acid-free bag/board and stay flat mailer.
#43: After a brief stint in a maximum-security mental institution, Deadpool is back on the streets and back on track, running headlong toward oblivion as fast as his little red feet can take him. But something causes him to stumble…or, rather, someone. Guess what, True Believers? Deadpool's about to get a girlfriend! Unfortunately, she's a total psychopath and Deadpool finds her utterly repulsive-but that's not gonna stop her! Actually, nothing can stop her. Prepare yourselves for the most disturbing love story ever told!
#44: First: Deadpool let loose in an oil field! Then: Deadpool and Shiklah enter the Tomb of Scariness! Guest-starring Omega Red and damned dirty bamfers!
#45: (250th Deadpool Comic) FINAL ISSUE (of Volume 4)! That's right-if you add together all the Deadpool series (creatively) issue 45 is the big 250th issue of Deadpool! What better way to celebrate than to end the series? In our over-sized main story, ULTIMATUM comes at Deadpool for revenge, so he has no choice but to take them on-ALL OF THEM. Then, in an Infinity Gauntlet crossover, what would Deadpool do if he got the six gems from Thanos? Plus: a slew of stories showcasing Deadpool's closest friends and allies byguest writers! Also, SPOILER: Deadpool dies at the end of the issue. Parental Advisory
Vol 5 #1: He's annoying. He's dangerous. He smells terrible. But the public love him. That's right-the Merc with the Mouth may make money for missions of murky morality…but he's become the most popular hero in the world for it. Eat that, Spidey! The world belongs to…DEADPOOL. The fan favorite team of Gerry Duggan and Mike Hawthorne return to bring Deadpool in to his most successful adventures yet! RATED T+

COMBINED SHIPPING AVAILABLE!!!