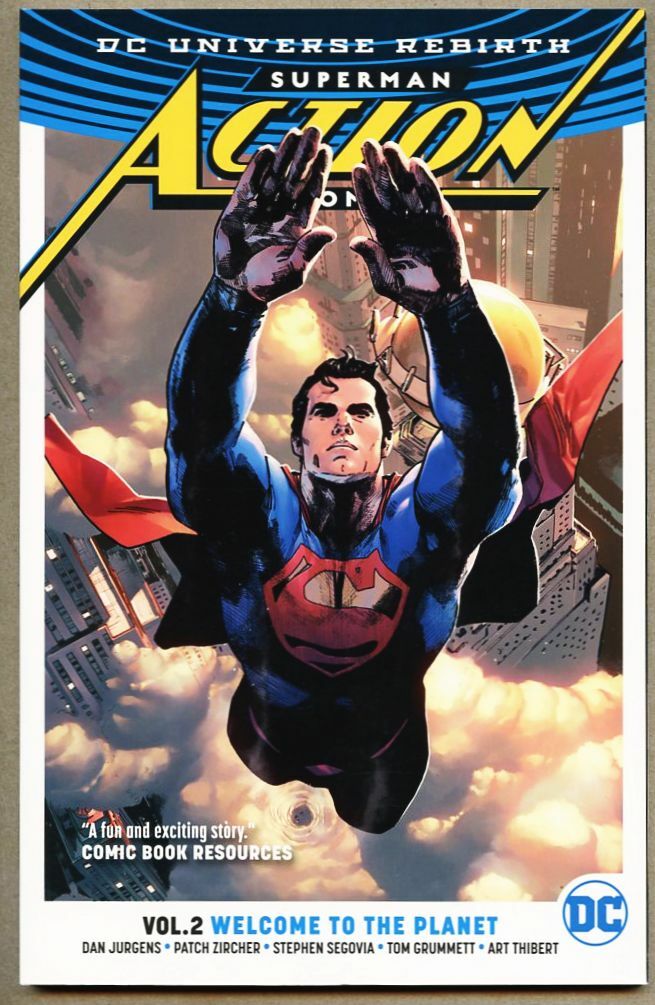 Price: 18.95 USD
Comic Book Details:
GN/TPB Superman Action Comics Volume 2 two 2017 nm+ 9.6 DC 1st 132 pgs Rebirth
from
DC
  / Softcover book/ 1st edition/1st print / 132 pages
Volume 2 –
"Welcome to the Planet!"
Collects Justice League (2011-2016) #52 and Action Comics (2016 3rd Series) #963-966.
Written by Dan Jurgens. Art by Patrick Zircher, Tom Grummett and Gabe Eltaeb.
Cover by Clay Mann.
Look! Down there on the ground! It's… Clark Kent?! As Metropolis recovers from the devastating attack of Doomsday, the mysterious figure claiming to be Clark Kent takes the spotlight to clear his name and prove once and for all that Clark Kent is not Superman!
PLEASE NOTE US SHIPPING FOR THIS  IS $5 (AND IT IS A FLAT $5 , SO IF YOU WIN MORE THEN 1   LISTING , SUCH AS 2 , 3 , 4 ,5 , 6 , etc
 IT IS ONE FLAT $5 SHIPPING CHARGE IN THE US)
ALSO IF YOU BUY MORE THEN 1 , PLEASE ALLOW ME TO INVOICE BEFORE PAYING , SO I CAN COMBINE YOUR INVOICE
INTERNATIONAL BIDDERS CONTACT FOR S/H PRICE 
( It is not flat shipping price outside of the US) 
due to the changes in Ebay in regard to mobile app usage i will try to limit my description , any questions message , all reasonable best offers will be considered
 ——check out the pic for a great look—————————————————————————————————————- ————————————–