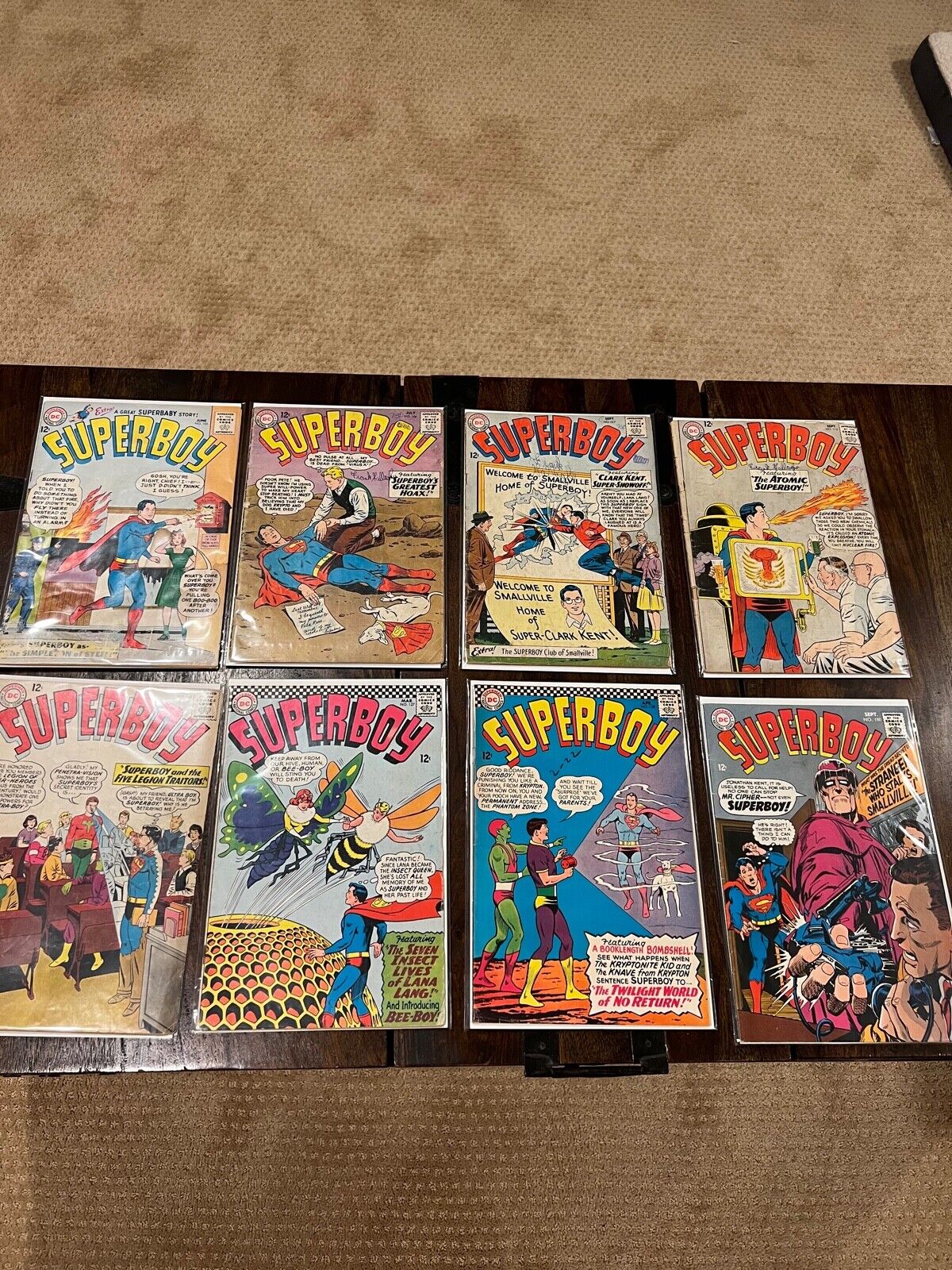 Price: 114.75 USD
Comic Book Details:
Lot 8 DC SUPERBOY 105 106 107 115 117 127 128 150 12c SILVER AGE Superman COMIC
PLEASE READ BEFORE BIDDING:
Description
You are bidding on the comic or comics pictured above in the title bar! You will receive the comic pictured in this listing.  This is from my personal collection.
Please review the pictures.

USA FREE SHIPPING on any orders above $99, so please check my other auctions

All comics and comic lots are packed carefully because I care and I want them to get to your home/business safely.  

Bid with confidence as I am a long time eBay buyer and seller.

Do not hesitate to contact me with any questions
USA SHIPPING:
1-4 Raw Comics = $4.99 –  I AM SHIPPING THESE FOR LESS B/C THEY ARE LIGHTER THAN TYPICAL COMICS.
5-8 Raw Comics = $9.99
9+ Raw Comics = $13.99
ORDERS ABOVE $99 – FREE SHIPPING
CGC/Slabbed Comics USA Shipping is $15.10 with no limit to the number you can buy or combine with raw comics for free.  But if the order is above $99 – then FREE shipping.
REMEMBER:
If your order is eligible for combined (5-8 comics OR 9+ Comics) or free shipping (orders above $99), please wait for an adjusted invoice before you pay.  If you pay the extra shipping for each book individually I cannot refund you the extra shipping.  So please wait for the invoice if you are getting more than one lot.  All orders must be paid in 7 days so you cannot bid for 2 months and THEN pay for example.  On the 7th day after the auction closes I will invoice you regardless if you have more auctions going on because eBay will close out the auctions after the 7 days.  So all items must be paid in 7 days and there are no exceptions because of eBay rules.
If and when you pay – I will ship the next day.  I cannot hold orders.
I will ship 95% of the time the next business day for you because that is what I would want for myself.
If you have a rating below 10 please message me before you bid so I can meet you and more importantly help you.  Good communication is important. I enjoy doing this as a hobby because I love people, collecting and comics.  
If you have any questions…Please ask me…
thanks, …Dave