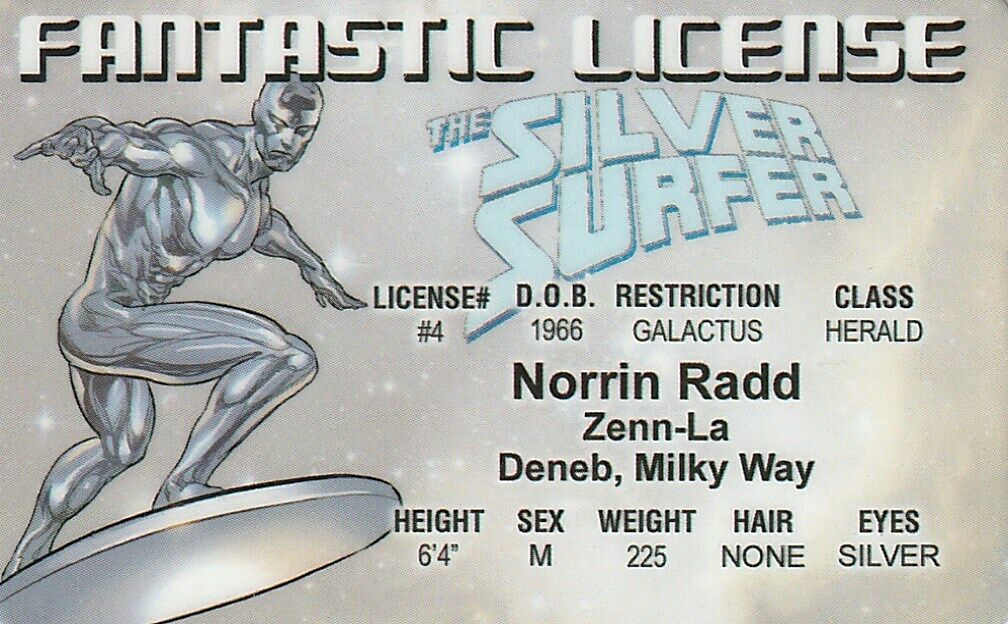 Price: 6.95 USD
Comic Book Details:
Marvel Comics The SILVER SURFER ID Card / Drivers License Stan Lee's hero




Grrrrrrrr -eetings .   here is a fun and fantastic addition to your costume gear, or the perfect gift for any fan.

Here is fun and fantastic THICK PLASTIC identification card / driver's license ….

This is  a  Credit Card Size fun novelty rendition  of official identification card.

It is  approximately in Size:    3⅛ in. x 2⅜ in.   It is constructed of THICK plastic…. and it is very high quality , much like a standard credit card.

Thanks most kindly, Harry
Betty Boop is an animated cartoon character created by Max Fleischer, with help from animators including Grim Natwick.[4][5][6] She originally appeared in the Talkartoon and Betty Boop film series, which were produced by Fleischer Studios and released by Paramount Pictures. She has also been featured in comic strips and mass merchandising.
A caricature of a Jazz Age flapper,
Betty Boop was described in a 1934 court case as: "combin[ing] in
appearance the childish with the sophisticated—a large round baby face
with big eyes and a nose like a button, framed in a somewhat careful
coiffure, with a very small body of which perhaps the leading
characteristic is the most self-confident little bust imaginable".[7] Although she was toned down in the mid-1930s as a result of the Hays Code to appear more demure, Betty Boop became one of the best-known and popular cartoon characters in the world.
fun facts from wikipedia..
Sex and the City
 Sex and the City (film) and Sex and the City 2.
Sex and the City
Genre
Created by
Darren Star
Starring
Narrated by
Sarah Jessica Parker
Theme music composer
Opening theme
"Sex and the City Theme"
Composer(s)

Douglas J. Cuomo

(1998–99)

Bob Christianson

(2000–04)

Country of origin
United States
Original

language(s)

English
No. of seasons
6
No. of episodes
94 (+ 2 feature films) (list of episodes)
Production
Running time
30 minutes
Production

company(s)

Distributor
Release
Original network
HBO
Picture format
480i (4:3 SDTV)
Audio format
Stereo
Original release
June 6, 1998 –
February 22, 2004
Chronology
Followed by
Sex and the City is an American romantic comedy-drama television series created by Darren Star and produced by HBO.
Broadcast from 1998 until 2004, the original run of the show had a
total of 94 episodes. Throughout its six-year run, the show received
contributions from various producers, writers, and directors,
principally Michael Patrick King.
Set and filmed in New York City and based on Candace Bushnell's 1997 book of the same name,
the show follows the lives of a group of four women—three in their
mid-thirties and one in her forties—who, despite their different natures
and ever-changing sex lives, remain inseparable and confide in each
other. Starring Sarah Jessica Parker (as Carrie Bradshaw) and co-starring Kim Cattrall (as Samantha Jones), Kristin Davis (as Charlotte York), and Cynthia Nixon (as Miranda Hobbes), the quirky series had multiple continuing storylines that tackled relevant and modern social issues such as sexuality, safe sex, promiscuity, and femininity,
while exploring the difference between friendships and romantic
relationships. The deliberate omission of the better part of the early
lives of the four women was the writers' way of exploring social
life—from sex to relationships—through each of their four very
different, individual perspectives.
Sex and the City has received both acclaim and criticism
for its subjects and characters, and is credited with helping to
increase HBO's popularity as a network.[1] The series has won several accolades, including seven of its 54 Emmy Award nominations, eight of its 24 Golden Globe Award nominations, and three of its 11 Screen Actors Guild Award nominations. The series placed fifth on Entertainment Weekly's "New TV Classics" list,[2] and has been listed as one of the best television series of all time by Time in 2007 and TV Guide in 2013.[3][4]
The series still airs in syndication worldwide. It spawned two feature films, Sex and the City (2008) and Sex and the City 2 (2010), and a prequel television series commissioned by The CW, The Carrie Diaries (2013–2014).
People's Choice Awards
From Wikipedia, the free encyclopedia
People's Choice Awards
43rd People's Choice Awards
People's Choice Awards logo.svg
Country     United States
First awarded     March 3, 1975
Official website     peopleschoice.com
Television/radio coverage
Network     CBS
The People's Choice Awards is an American awards show, recognizing the people and the work of popular culture, voted on by the general public.[1] The show has been held annually since 1975.[2][3] The People's Choice Awards is broadcast on CBS and is produced by Procter & Gamble and Mark Burnett. In Canada, it is shown on Global. On April 6, 2017, E! announced they would begin airing the show in 2018; they also announced they would begin overseeing the awards' digital, social and voting platforms.[4]
The award show's creator was Bob Stivers, who produced the first show in 1975.[5][6] The first awards recognized The Sting as Favorite Picture of 1974, Barbra Streisand as the year's Favorite Film Actress, and John Wayne as its Favorite Film Actor.[7] Ratings for the annual event peaked in 1977, when the third People's Choice Awards attracted 35.3 million viewers who witnessed Farrah Fawcett win the award for Favorite Female TV Star, Star Wars win as the Favorite Picture, and Streisand and Wayne win again in the Film Actress and Actor categories.
Ceremonies
#     Date     Host         #     Date     Host         #     Date     Host
1st     March 3, 1975     Army Archerd
Richard Crenna     21st     March 5, 1995     Tim Daly
Annie Potts     41st     January 7, 2015     Anna Faris
Allison Janney
2nd     February 19, 1976     Jack Albertson     22nd     March 10, 1996     Brett Butler     42nd     January 6, 2016     Jane Lynch
3rd     February 10, 1977     Dick Van Dyke     23rd     January 12, 1997     Don Johnson
Roma Downey     43rd     January 18, 2017     Joel McHale
4th     February 20, 1978         24th     January 11, 1998     Reba McEntire
Ray Romano    
5th     March 7, 1979     Army Archerd
Dick Van Dyke     25th     January 13, 1999     Ray Romano
6th     January 24, 1980     Mariette Hartley
Bert Parks     26th     January 9, 2000     Don Johnson
Cheech Marin
7th     March 8, 1981     Army Archerd
Lee Remick     27th     January 7, 2001     Kevin James
8th     March 18, 1982     Army Archerd
John Forsythe     28th     January 13, 2002
9th     March 17, 1983     Dick Van Dyke     29th     January 12, 2003     Tony Danza
10th     March 15, 1984     Andy Williams     30th     January 11, 2004     Charlie Sheen
Jon Cryer
11th     March 12, 1985     John Forsythe     31st     January 9, 2005     Jason Alexander
Malcolm Jamal Warner
12th     March 13, 1986     John Denver     32nd     January 10, 2006     Craig Ferguson
13th     March 14, 1987     Dick Van Dyke     33rd     January 9, 2007     Queen Latifah
14th     March 13, 1988     Carl Reiner     34th     January 8, 2008
15th     August 23, 1989     Michael Landon
Michele Lee     35th     January 7, 2009
16th     March 11, 1990     Valerie Harper
Fred Savage
Army Archerd
Barbara Mandrell     36th     January 6, 2010
17th     March 11, 1991     Burt Reynolds     37th     January 5, 2011
18th     March 17, 1992     Kenny Rogers     38th     January 11, 2012     Kaley Cuoco
19th     March 17, 1993     John Ritter
Jane Seymour     39th     January 9, 2013
20th     March 8, 1994     Paul Reiser     40th     January 8, 2014     Beth Behrs
Kat Dennings