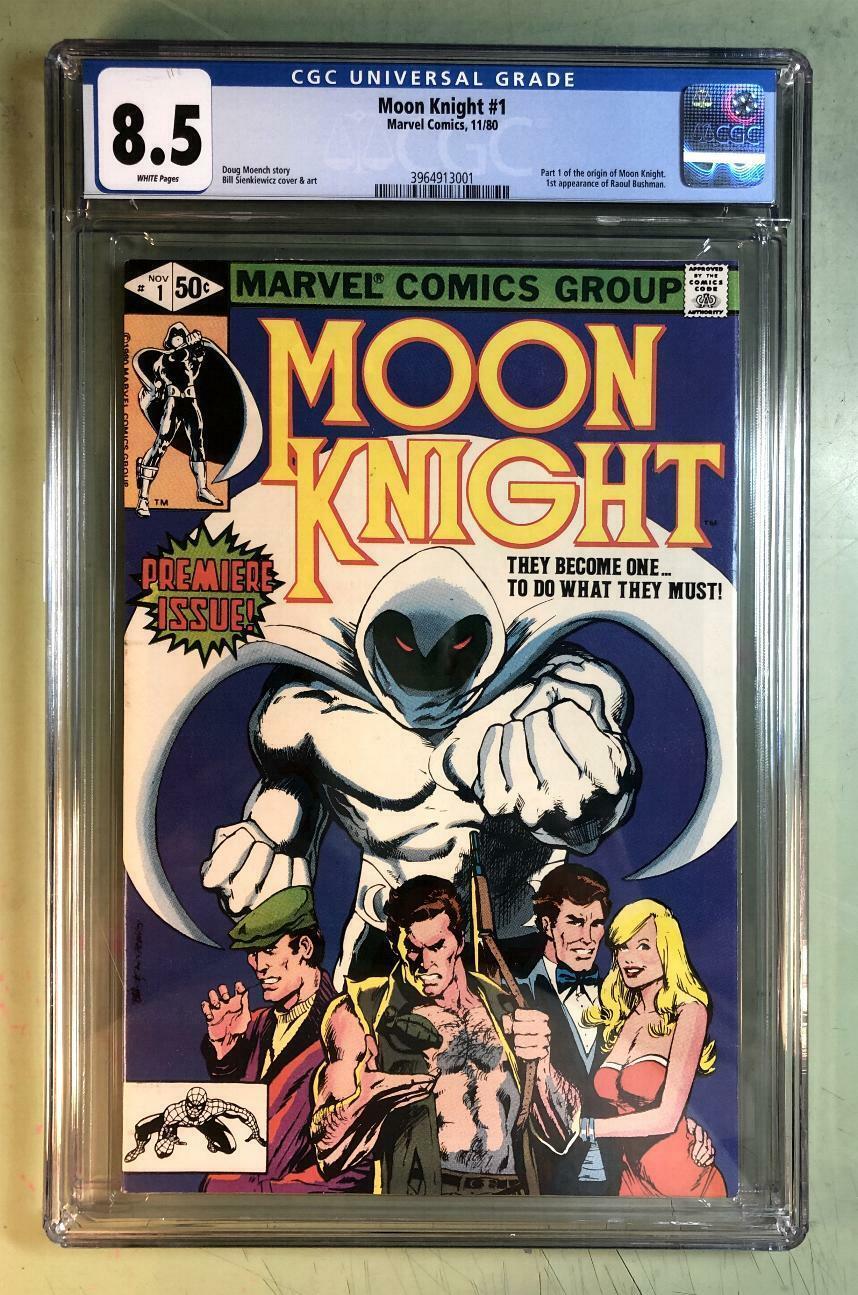 Price: 224.10 USD
Comic Book Details:
MOON KNIGHT 1, CGC 8.5, ORIGIN of RAUL BUSHMAN, (BRAND NEW SLAB) DISNEY +*




 




PART1 of ORIGIN of MOONKNIGHT

---
Moon Knight Comic Stuff
Moon Knight is a fictional character appearing in American comic books published by Marvel Comics. Created by writer Doug Moench and artist Don Perlin, the character first appeared in Werewolf by Night #32 (August 1975).[1]
The son of a rabbi, Marc Spector served as a Marine and briefly as a CIA operative before becoming a mercenary alongside his friend Jean-Paul "Frenchie" DuChamp. During a job in Sudan, Spector is appalled when ruthless fellow mercenary Raoul Bushman attacks and kills archeologist Dr. Alraune in front of the man's daughter and colleague, Marlene Alraune. After fighting Bushman and being left for dead, a mortally wounded Spector reaches Alraune's recently unearthed tomb and is placed before a statue of the Egyptian moon god Khonshu. Spector dies, then suddenly revives, fully healed. He claims Khonshu wants him to be the "moon's knight", the left "Fist of Khonshu", redeeming his life of violence by now protecting and avenging the innocent. While early stories imply Spector is merely insane, it is later revealed Khonshu is real, one of several entities from the Othervoid (a dimension outside normal time and space) once worshipped by ancient Earth people. On his return to the United States, Spector invests his mercenary profits into becoming the crimefighter "Moon Knight", aided by Frenchie and Marlene Alraune, who becomes his lover and eventually the mother of his daughter. Along with his costumed alter ego, he primarily uses three other identities to gain information from different social circles: billionaire businessman Steven Grant, taxicab driver Jake Lockley, and suited consultant Mr. Knight.
---
CGC Stuff






VeryFine+ 8.5 

Barcode #3964913001

---
Terms, Conditions and Shipping Stuff


I've Guaranteed Satisfaction on all my items sold on eBay for the last 24-years (since my 1st sale…way back in 1998) and my single goal is to make you happy! Just like the asterisk in my eBay I.D. (smittys*stuff), from now on you'll always see them in my item titles…you can rest assure that there's "never a risk when you see the asterisk!" As with all my shipping fees INSURANCE IS INCLUDED. I now offer a 30-day return for full refund/exchange/credit/trade whatever makes you happy, but on winning-bid amount only!…all postage – non-refundable. Items must be returned in the same condition that I sent 'em. I accept CREDIT CARDS through PAYPAL (items will be shipped when payment is received), items ship in 24 hrs…happy? I will be glad to combine multiple items brought or won to save you $$$ on shipping fees! Buyer pays for shipping and a small nominal fee for handling/packaging, it take's time/effort to make sure your item gets to you in a safe/secure manner as my shipping & handling charges for items sold on my auctions ensure the lowest possible fee to the buyer. Most of the cost for handling fees actually comes from the expense of high quality packing, insurance/tracking, advanced product evaluation, product protection and rigorous quality control (I do check every page, cover to cover)…does that make you happy? FREE SHIPPING with BIN price only!
I can ship your item Media Rate/1st Class/Priority/Special Standard/Next-Day/Pony Express/Carrier Pigeon, whatever I can do to make you happy, besides…shipping costs really add up, that's why I give you the option. One more thing…insurance is included in the shipping fee (international shipments MUST be insured). Seller (that being me!) is not liable/responsable for uninsured items that are lost, stolen or damaged in the mail. Thanks for lookin' at my stuff!…Happy Hunting and Good Luck!
---