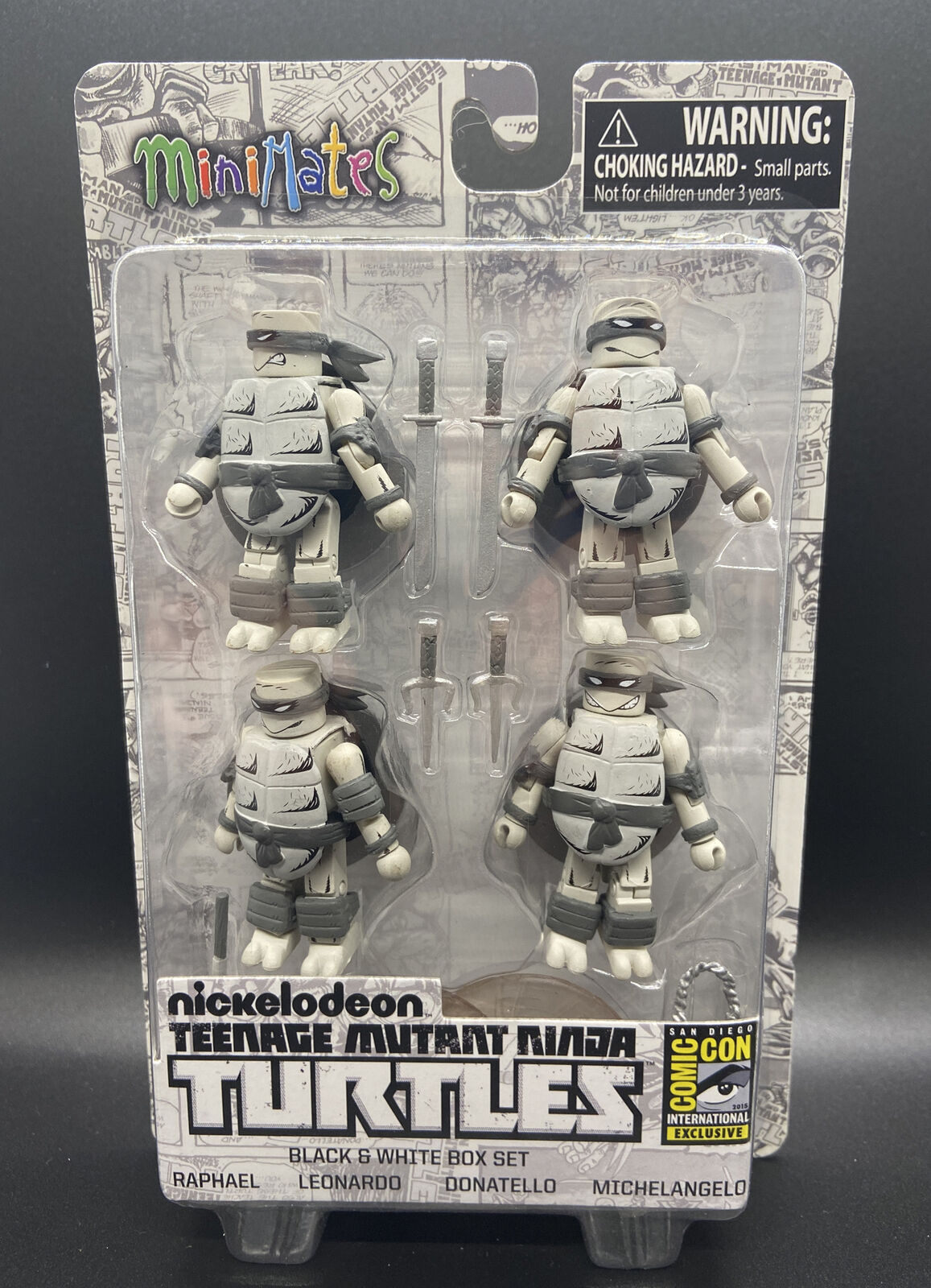 Price: 59.99 USD
Comic Book Details:
SDCC 2015 MINIMATES TEENAGE MUTANT NINJA TURTLES MIRAGE BLACK & WHITE BOX SET

Item Description
2015 SAN DIEGO COMIC CON DIAMOND SELECT TOYS EXCLUSIVE
MINIMATES TEENAGE MUTANT NINJA TURTLES

LIMITED EDITION MIRAGE BLACK & WHITE BOX SET
Go back to the Teenage Mutant Ninja Turtles comic-book roots with this 4-pack of Minimates that depicts the four Ninja Turtles in their classic comic book appearances – and in glorious black-and-white! Based on the Turtles' monochromatic debut in the original Mirage Comics issues that launched a worldwide phenomenon, this 4-pack includes Leonardo, Donatello, Michelangelo and Raphael, each with their signature weapons. Each 2-inch Minimates mini-figure stands 2-inches tall with 14 points of articulation, and features interchangeable parts and accessories. Packaged on a full-color blister card.
Limited edition of only 3,000 pieces!
Packaging Condition Policy
We are also collectors and try our best to select the best looking boxes for our inventory. However, Please be aware all of our toy packaging are subjected to shelf ware/standard flaws. This item's packaging may have normal wear such as dings,dents,bends, creases, scrapes, and any other packaging imperfections, just as you would see in your local retail store. Of course, we will not send you anything that looks mangled however some box imperfections are possible.

We are not professional graders and do not promise specific grades such as "C10" or "Mint" condition."Mint" is a subjective term (and arguably a matter of opinion) used by collectors. For this reason we list all of our items with packaging flaws, even if they are packaged in pristine condition.

Stock photos are often used or one specific item from our inventory is used as a stock photo. Please do NOT use this as a reference for package condition. We obviously can not send you the exact item in a manufacturer's stock photo. Unfortunately, we cant picture every single toy and blemish (we have a pretty large selection of toys!). Actual packaging styles, color, design may vary from manufacturer stock photos.

We offer personalized service! If specific packaging is a requirement for you, we ask collectors to contact us before purchasing toys to confirm exact condition/style. We will be more than happy to hand pick a specific item and provide exact photos to arrange a sale. Most of the toys we sell are in beautiful packaging condition however every collector has their own standards and this policy is to ensure you are 100% happy with your purchase.
Electronic items that include batteries may be expired and will need to be changed by the buyer. Many collectibles we sell have been carefully stored in sealed packaging for years. There is no way for us to test the item without opening the packaging (which we will not do). Therefore these items are sold "AS-IS" which at the time of sale is a non-functioning collectible item. ie: Please do not expect a factory sealed Star Wars lightsaber from 2010 to arrive with working demo batteries.

Funko Policy:

Funko figures are machine painted. Paint applications will vary. Funko does not consider inferior paint jobs or box imperfections to be defective or damaged. We will not accept returns if you are unhappy with the particular quality of the item.

If box and/or paint jobs are a major concern for you, please contact us before purchasing. We will hand select and detail photograph a suitable item from our inventory at your request. Please allow us time to respond to your request. Special requests after placing your order will not be granted.
Shipping Terms and Conditions
All items shipped domestic and internationally include tracking. Orders over $750.00 will require signature confirmation.

Some small items that include the free shipping option may ship USPS First Class Mail in a bag or bubble mailer. If packaging condition is important to you,please contact us for alternate shipping options or select the USPS Priority Mail option. Note: We do NOT ever ship Funko Pop!s or action figures in a bubble mailer.

We ship only to confirmed PayPal addresses. Please confirm the shipping address on your PayPal account. Once payment is submitted we can not change any address information. No exceptions will be granted. If this is a gift for someone, please be sure to submit payment with the correct shipping address.

International shipping is available through eBay's Global Shipping Program. International buyers will be responsible for any and all shipping and import charges that apply. For international shipping pricing, simply add the item(s) to your shopping cart and begin the checkout process for a grand total.

Combined shipping is available for most items. Please be sure to add all items to your shipping cart and check them out together. If discounts don't automatically apply, please contact us before purchasing multiple items and we will lot them for you to ensure the cheapest shipping option available. Once orders have already been placed, we will not be able to adjust shipping.
Store Policies : Feedback – Returns – Cancellations
Positive feedback will be left in reciprocation after we have received your positive feedback. This is our way of knowing the transaction is complete, you have received your item and are satisfied with your purchase

If you have any issues with your order please contact us immediately with details of exactly what is wrong. We appreciate your business and very much appreciate the opportunity to correct any issues before opening a case or leaving neutral or negative feedback.

All wearable items such as clothing, shoes, belts, hats, etc. are listed according to the manufacturer's listed size/measurements. Please be sure measure carefully.

All sales are final: No Returns. No Cancellations. Your order process begins immediately after payment has been received. Many of the collectibles we sell are of significant value. We take extra effort to store and ship them safely and ensure they are handled as least as possible. We do not want to compromise the item condition or risk the package getting lost in transit going back and forth through the postal service. Please be sure of your purchase before placing your order.
We actively report fraudulent returns to the local authorities, Postal Mail Inspection Service as well as the Internet Crime Complaint Center (IC3).  

All of our items are purchased directly from manufacturers and authorized retailers. We do not purchase or sell aftermarket fakes or customs. We are well aware of the widespread of counterfeit knock offs from Asia. We absolutely do not tolerate box swaps, figure swaps or any other type of return fraud!

Every item we ship out is carefully documented for unique characteristics and various other methods of identification and proof of authenticity. Please be forewarned, we will take legal action to recover our losses. Please save us both the headache and do not buy form us if you plan on committing return theft.


The shipping packaging process of this item will be video recorded. We actively report civil theft and fraudulent returns to the local authorities, Postal Mail Inspection Service as well as the Internet Crime Complaint Center (IC3). 1428 Toys is registered in Sarasota County, FL, USA. Its is agreed that all parties will abide by the laws of the State of Florida in all matters relating to this agreement. And that in the case of any dispute, the legal jurisdiction of resolution shall be Sarasota County. Florida. The buyer acknowledges that any items not returned within 30 days of receipt of the refund will be deemed appropriated by the buyer and buyer also acknowledges their intent to deprive from seller, either temporarily or permanently, the right to the property or the benefits from the property.

Please ask any questions and read the listing in it's entirety before purchasing. Your purchase is your agreement to our store policies.
THANKS FOR LOOKING!
Please visit our store for a large selection of hard to find toys and collectibles!