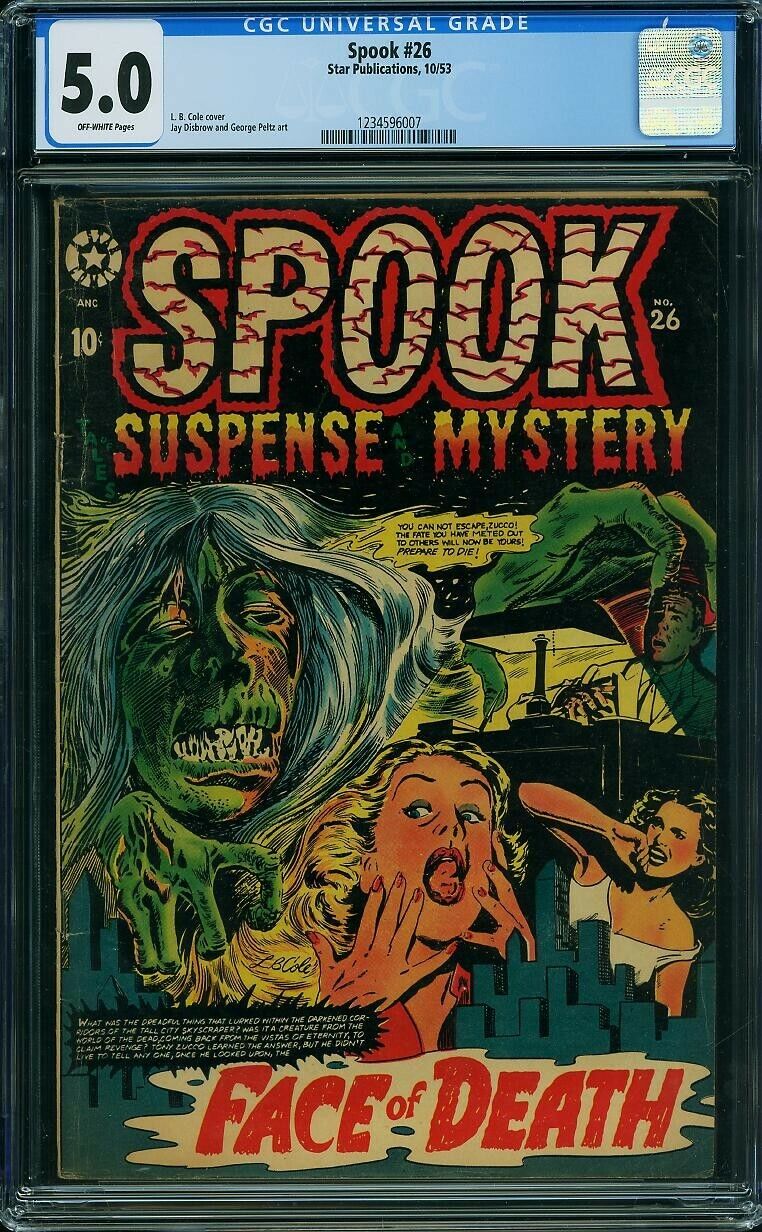 Price: 1,399.95 USD
Comic Book Details:
Spook 26 CGC 5.0 LB Cole Zombie C 1953 Suspense Mystery Horror Star Publications




This Auction Includes:

LOT OF 1 VINTAGE COMIC BOOK: SPOOK SUSPENSE AND MYSTERY #26 CGC 5.0 With Off-White Pages, THE CLASSIC "FACE OF DEATH" ZOMBIE COVER!  Some Collectors Overlook This Obscure Series From Star Publications, As Most Of The Issues Are Tough To Find.  Other Than The Final Issue Of The Title, They All Boast Dynamic Horror-Themed Covers By The Legendary Golden-Age Master, But It Is THIS Superlative Depiction Of Paranormal Doom And Psychedelia That Most Exemplifies His Inimitable Style.  With Comparable 'Signature Covers' By The Prolific L.B. Cole Such As The Similar Thrilling Crime #49, Along With Other Evocative Efforts Including Blue Bolt Weird #117, Capt. Flight #11, Shocking Mystery #51, Power Comics #3, Along With His Iconic Mask Comics, You Don't Find Many Fans That Remain Unaware Of Such Masterpieces, Thanks In Part To Their Prominent Placement In The Gerber Photo-Journals.  With Colorful Cole Covers Emblazoned Upon The Dust Jackets, Such Auspicious Efforts By This Influential Talent Were Finally Exposed To The General Collecting Community, And Quickly Appeared On Many New Want-Lists As Countless Fresh Fans Now Recognized The Groundbreaking Material That Cole Was Producing In The Day, And Aspired To Own A Copy For Themselves.  Those Of You That Have Followed The Golden-Age Hobby In Recent Years May Have Observed These Other Historic Cole Covers Experiencing Dramatic Price Increases As More Fans Around The Globe Discover His Awe-Inspiring Timeless Style, While Supplies Of Intact Examples Remain Sparse.  As An Insatiable Cole-Collector For Over Thirty Years, I Am Convinced That, More So Than Many Of Even His Most Renowned Supernatural Covers, This One Grabs The Viewer, Pulling You In, And Apart, ~ Even When You Want To Avert Your Gaze From The Unsettling Vortex, You're Transfixed.  In Addition To The Sensational Cover Story About A Horrifying Ghoul Out For Vengeance, Drawn By The Talented Jay Disbrow, It Also Contains Other Salacious Tales Including "The Mystery Of The Three Dials", And "The Snow Ghost", And The Haunting Finale, "Invasion Of Demons". This Book 

Is An Emerging Classic Cover By Arguably The Hottest Artist In The Medium, Making It Crucial To Any Expert Pre-Code Collector, Yet It Has Long Been Scarce In Presentable Shape, So Don't Take This Chance To Score A Brilliant Mid-Grade Example Lightly, Or You May End Up Settling For A Photocopy Replica Instead. The Pre-Code Horror And Science-Fiction Craze Was In Full Swing So It's Got The Ubiquitous Lurid Content Including Gore And Cheesecake And Extreme Violence And Good Girl Art And Other Classic Elements Of The Gritty Fifties Comics From Before The Advent Of The Comics Code Authority

.  
THIS HAD AN ORIGINAL PRICE OF TEN CENTS.
 The Horror, Crime, Pulp Fiction, Sci-Fi, Good-Girl And Supernatural Themes Never Go Out Of Style!
This hails from a cool, dry, smoke-free, climate-controlled environment.  Although most of the photographs are dismal, it is quite striking in person.  It retains an amazing amount of luster and the eye appeal is stunning! 

Crucial issue for any Walking Dead collector or Cole fiend or collector of classic pre-code crime & horror comics.
MATERIAL LIKE THIS SPOTLIGHTING ICONIC THEMES OF CINEMA, TELEVISION, POP CULTURE AND LITERATURE NEVER LOSES APPEAL.
   This seldom-seen collectible will be carefully packaged to ensure safe delivery.
SCARCE YET SOUGHT-AFTER ISSUE FROM ONE OF THE ELUSIVE TITLES THAT IS JUST STARTING TO RECEIVE ITS DUE ACCLAIM.

 Any pre-code fan will want to see our ebay store, featuring many sweet horror, crime and sci-fi offerings.  W

E ACTIVELY BUY, SELL AND TRADE VINTAGE COMICS, SO PLEASE CONTACT US WITH IDEAS & OFFERS.
We are now selling many other old horror and science-fiction comic-books, and even vintage original comic art, with more to come in the coming weeks.  Which means this is a good opportunity for an astute fan to acquire multiple scarce items in one fell swoop, and save on shipping to boot.
Many of you long-term fans have dealt with us through our ads in CBM, CBG, O.P.G., etc.
(Comic Book Marketplace, Comics Buyer's Guide, Overstreet Price Guide, Wizard, Comic Source, Combo, +…)
We are secure packagers and prompt shippers so expect to be pleased. 

As Usual: LOW BUY IT NOW PRICE AND NO RESERVE!
KEY COMICS is a long-term top rated eBay Seller and CBM Market Report contributor and CGC Member Dealer that has specialized in vintage comics and comic-art for over three decades;
Buy with confidence.
WE LIST SCARCE INVESTMENT-GRADE COLLECTABLE COMICS FREQUENTLY, SO PLEASE CHECK BACK OFTEN!
We accept PayPal; checks/MO.
SATISFACTION GUARANTEED
International Customers Welcome.
Please add $15 for fast Priority-Mail shipping with tracking within USA.  Please contact us for current International Shipping Rates as the ebay shipping calculator is often inaccurate.  Buy additional comics and save: just add $2 for each CGC/CBCS comic. 
KEY COMICS IS ALWAYS DEALING IN COMICS & ART!
(1930's to `80's)
Add keycomics to your Favorite Sellers list if you buy/sell/trade rare comics or comic artwork!

For more samples from our diverse inventory, including Key Back-Issue Comics, plus more CGC horror comics, and rare Comic Line Art, and DC COVER ART from the historic Jack Adler Collection that we listed in assorted categories, please see our ebay store.
Good Luck and Happy Collecting!

Buy Aggressively — Once it's gone, it's gone…