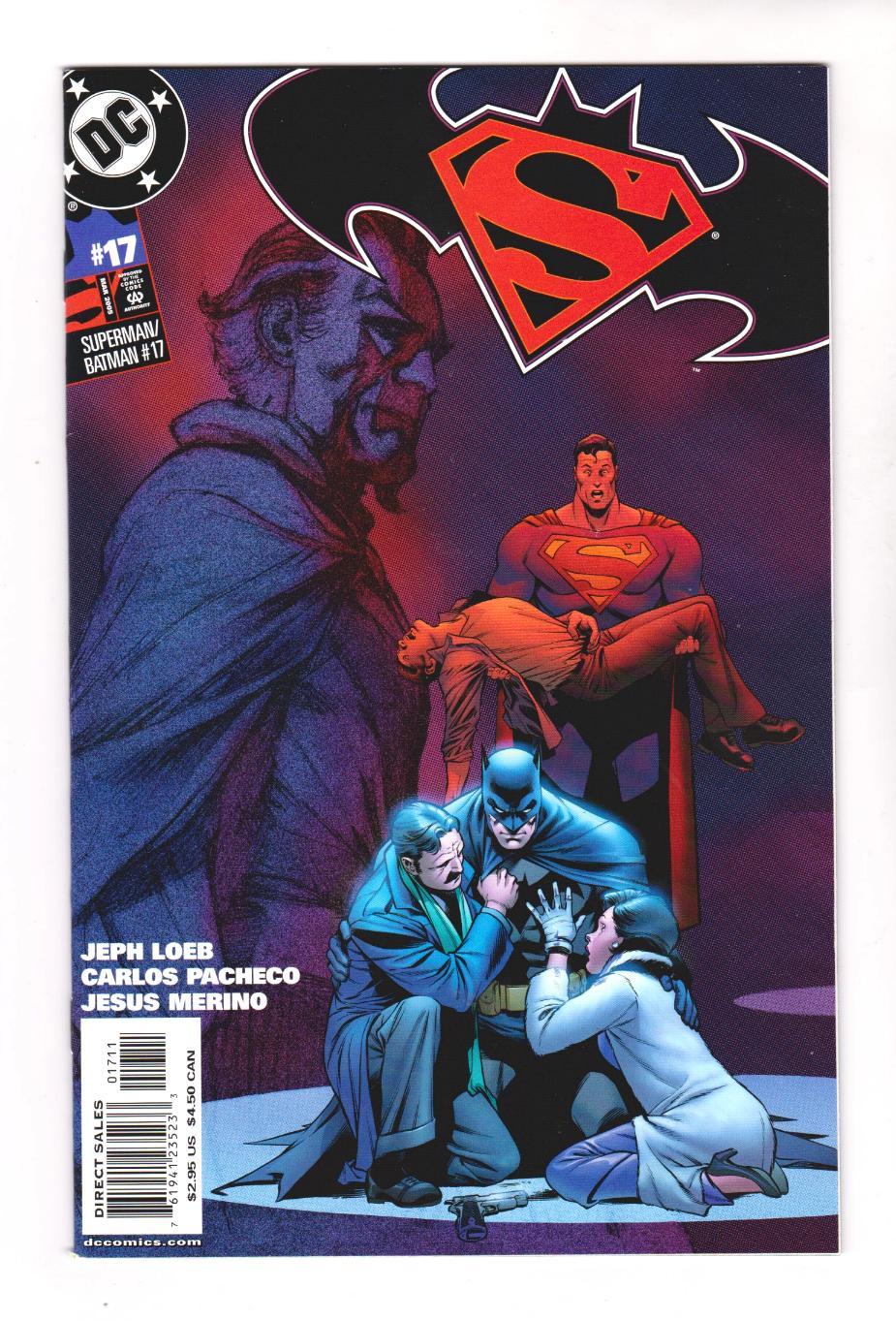 Price: 8.00 USD
Comic Book Details:
SUPERMAN BATMAN 17 (NM) S (FREE SHIPPING) *




---
Customer Appreciation 18th YEAR Auction & Sale
In appreciation to all my FANTASTIC eBay buyers, I'll be auctioning off a good portion of my current eBay Silver/Bronze Age store inventory with low "INSANE" opening BIDs starting at .99 cents, going no higher than $9.99 with NO RESERVE! For some of the more High-End items I'll be reducing the price 25% up to 50% OFF GUIDE. Also adding some NEW Modern Age stuff with starting BIDs at .99 cents, so be sure to get in on the action and check 'em out. Thanks for all your support over the past 18-years on eBay! Thanks for the 3500+ POSITIVE FEEDBACKS and 100% RATING!–with over 5400 TOTAL feedbacks!…Thanks for the NEAR PERFECT 5-STAR (4.9) ACROSS the BOARD DSR RATING!…Thanks to you I am now a TR-SELLER!…and for the rest of the year I'll be auctioning off a super-selection of HIGH GRADE Silver/Bronze/Modern Age Comics, Autographed Comics w/COA's, CGC Graded Comics and Baseball Cards, Sport Cards/Sets and Autographed Memorabilia, Non-Sport Cards/Sets, and loads of other great stuff. Lots of items will include FREE SHIPPING! Always willing to make a fair deal so…feel free to drop me an e-mail if you have something in mind.
---
Superman/Batman Origin Stuff
Superman/Batman was a monthly comic book series published by DC Comics that featured the publisher's two most popular characters: Superman and Batman. Superman/Batman premiered in August 2003 and was an update of the previous series, World's Finest Comics, in which Superman and Batman regularly joined forces. Superman/Batman explored the camaraderie, antagonism, and friendship between its title characters. Jeph Loeb, the series' first writer, introduced a dual-narrator technique to present the characters' often opposing viewpoints and estimations of each other, which subsequent series writers have maintained. Before the 1985 limited series Crisis on Infinite Earths, the two iconic characters were depicted as the best of friends. Frank Miller's landmark series The Dark Knight Returns was the first DC story that depicts the heroes at odds with each other, as opposed to pre-Crisis incarnations. This dynamic became DC Universe canon with John Byrne's The Man of Steel, a Superman reboot published in 1986. After the first 13 issues, most of the story arcs were independent and self-contained from the ongoing or crossover storylines in the other Batman and Superman comic titles. Superman/Batman #26, Loeb's final issue, features a story plotted by Loeb's son, Sam Loeb, who wrote it before his death from cancer in 2005 at the age of 17. Twenty-six writers and artists who knew Sam worked on the issue, donating their fees and royalties for the issue to the Sam Loeb College Scholarship Fund. A new series titled Batman-Superman was announced by DC Comics in 2013.
---
Item Description Stuff
9.4 NEAR MINT (NM): Nearly perfect with only minor imperfections that keep it from the next higher grade. Minor feathering that does not detract from the overall beauty of an otherwise higher grade copy is acceptable for this grade. The overall look is "as if it was just purchased and read once or twice." (If you're careful with handling, there's no way to tell how many times a comic has been read, or if unread, so don't always believe that 'unread' hype.) Subtle bindery/printing defects are allowed. Bindery tears must be less than 1/16″ on Silver Age and later books, although on Golden Age books bindery tears of up to 1/4″ have been noted. Cover is flat with (almost) no surface wear. Inks are bright with high reflectivity and a minimum of fading. Generally well centered and firmly secured to interior pages. Corners are cut square and sharp with ever-so-slight blunting permitted. A 1/16″ bend is permitted with no color break. No creases. Small, inconspicuous, lightly penciled, stamped or inked arrival dates are acceptable as long as they are in an unobtrusive location. No soiling, staining or other discoloration apart from some slight foxing. Spine is tight and flat. No spine roll or split allowed. Staples are generally centered; may have slight discoloration. No staple tears are allowed; almost no stress lines. No rust migration. In rare cases, a comic was not stapled at the bindery and therefore has a missing staple; this is not considered a defect. Any staple can be replaced on books up to Fine, but only vintage staples can be used on book
s from Very Fine to Near Mint. Mint books must have original staples. Paper is (no worse than) off-white to cream, supple and fresh. No hint of acidity in the odor of the newsprint. Centerfold is firmly secure. Slight interior tears are allowed.

I use The Official Overstreet Comic Book Grading Guide to evaluate and grade all my comics sold/auctioned on eBay!
These DC comics are not always easily obtainable and tough to find period, especially with this exceptional degree of color and gloss and the outstanding spine/page quality. Everything else about this copy is rock-solid through and through, and would make for nice super HIGH GRADE for the collection!…Based on market research and popular demand my BIN price is $8, That includes FREE SHIPPING…Feel free to contact me with any questions you may have about this item.
---
Inside Stuff
Creative Teams

Writers – Jeph Loeb

Cover Art – Pencils: Carlos Pacheco, Inks: Jesus Merino

Inside Art – Pencils: Carlos Pacheco, Inks: Jesus Merino
Story Titles

"Absolute Power Chapter Four [of Five]: "A World Without Batman…"]"
Appearance

Superman [Clark Kent; Kal-El]; Batman [Bruce Wayne]; Sgt. Rock; Easy Company [Ice Cream Soldier; Bulldozer]; The Haunted Tank; Blackhawks [Blackhawk [Janos Prohaska]; Lady Blackhawk [Zinda Blake]]; JLA [Justice League; Green Lantern [Hal Jordan]; Aquaman [Arthur Curry; Orin]; Flash [Barry Allen]; Martian Manhunter [J'onn J'onzz]]; Lois Lane; Thomas Wayne; Alfred Pennyworth; Tommy Elliot; Ra's Al Ghul; Kobra; Lightning Lord [Mekt Ranzz]; Cosmic King [Laevar Bolto]; Saturn Queen [Eve Aries]; Beauty Blaze; Echo
Grade


NM (9.4)

OWL-10 GLOSSY WHITE PAGES
---
Terms, Conditions and Shipping Stuff


I've Guaranteed Satisfaction on all my items sold on eBay for the last 18-years (since my 1st sale…way back in 1998) and my single goal is to make you happy! Just like the asterisk in my eBay I.D. (smittys*stuff), from now on you'll always see them in my item titles…you can rest assure that there's "never a risk when you see the asterisk!" As with all my shipping fees INSURANCE IS INCLUDED. I now offer a 30-day return for full refund/exchange/credit/trade whatever makes you happy, but on winning-bid amount only!…all postage – non-refundable. Items must be returned in the same condition that I sent 'em. I accept CREDIT CARDS through PAYPAL (items will be shipped when payment is received), items ship in 24 hrs…happy? I will be glad to combine multiple items brought or won to save you $$$ on shipping fees! Buyer pays for shipping (and return shipping), a small nominal fee for handling/packaging, it take's time/effort to make sure your item gets to you in a safe/secure manner as my shipping & handling charges for items sold on my auctions ensure the lowest possible fee to the buyer. Most of the cost for handling fees actually comes from the expense of high quality packing, insurance/tracking, advanced product evaluation, product protection and rigorous quality control (I do check every page, cover to cover)…does that make you happy? FREE SHIPPING with BIN price only!
I can ship your item Media Rate/1st Class/Priority/Special Standard/Next-Day/Pony Express/Carrier Pigeon, whatever I can do to make you happy, besides…shipping costs really add up, that's why I give you the option. One more thing…insurance is included in the shipping fee (international shipments MUST be insured). Seller (that being me!) is not liable/responsable for uninsured items that are lost, stolen or damaged in the mail. Thanks for lookin' at my stuff!…Happy Hunting and Good Luck!
---
I am now a CGC member and can have your books graded…double click the CGC logo for pricing and info…any questions, please inquire!
---
Pay me securely with any major credit card through PayPal!
---





Powered by eBay Turbo Lister

The free listing tool. List your items fast and easy and manage your active items.