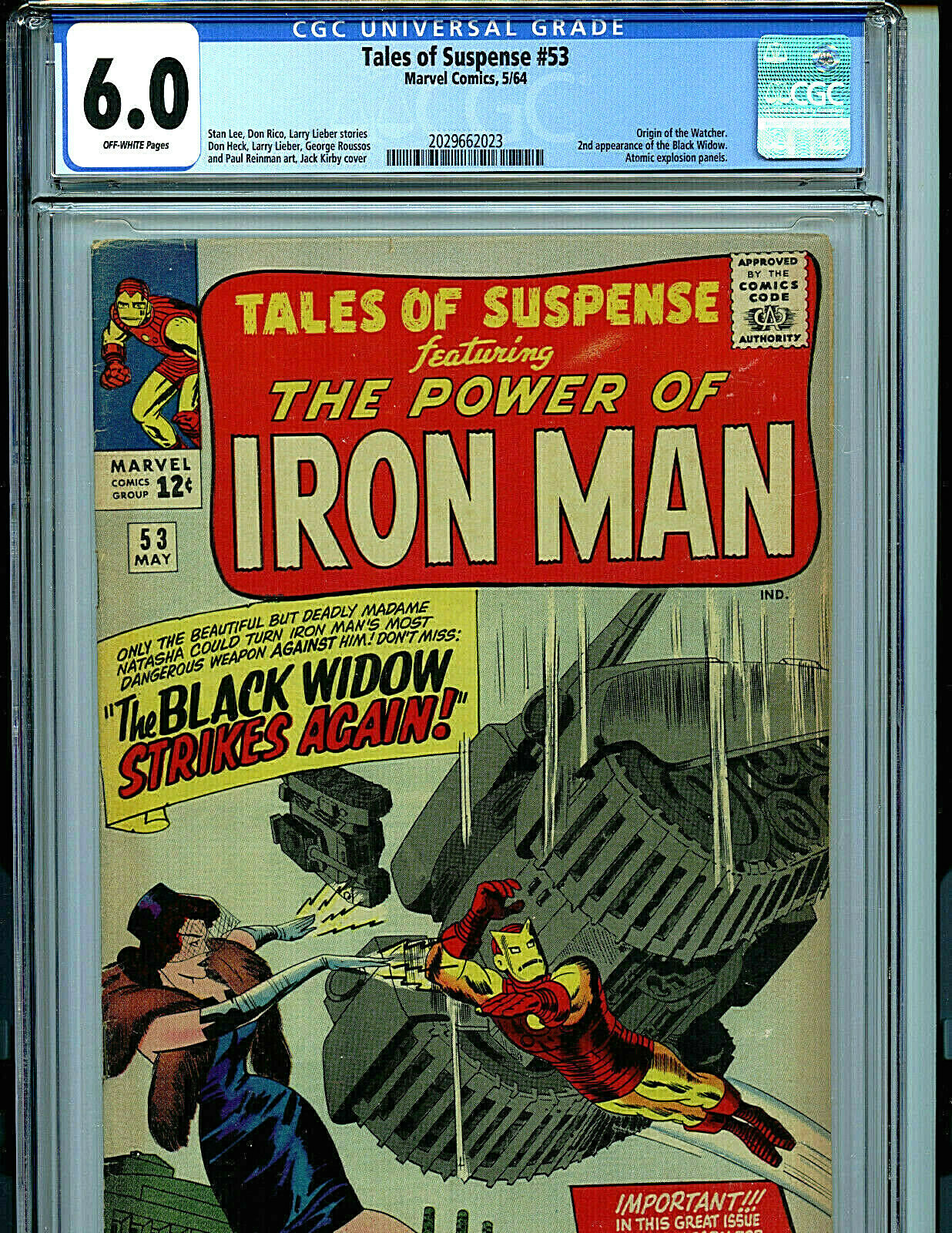 Price: 649.99 USD
Comic Book Details:
Tales of Suspense #53 CGC 6.0 Marvel Comics 1964 2nd Black Widow Watcher K22




You are buying a
Marvel
Comics Silver Age Tales of Suspense #53 with
Iron Man
Comic Book
certified and graded by
CGC
as being  6.0 FN.  Book was released in 1963 and book appears much better than the grade. 2nd appearance of Black Widow and origin of the Watcher.
There may be some refraction glare on some of the pictures from the scanner. 
Cover pencils by Jack Kirby, inks by Sol Brodsky. Second appearance of
the Black Widow in "The Black Widow Strikes Again!", script by Stan Lee
(plot) and Don Rico (as N. Korok), art by Don Heck; To redeem herself in
the eyes of the communist leader, Black Widow steals the new anti-grav
ray device developed by Tony Stark and attacks Fort Knox;
Iron Man
destroys the ray device, but the Black Widow escapes. "The Magician"
text story. "The Omen," script by Stan Lee (plot) and Larry Lieber
(script), pencils by Larry Lieber, inks by George Roussos (as George
Bell); A superstitious warlord thinks a flare of light is a good omen
for an invasion, but when it is discovered to be a meteor his entire
world must evacuate in order to survive. The Watcher origin in the fifth
Tales of the Watcher, "The Way It Began," script by Stan Lee (plot) and
Larry Lieber (script), pencils by Larry Lieber, inks by Paul Reinman;
The Watcher comes from a super-advanced race that decides to share its
technology with others; When their first attempt ends in tragedy, they
vow never to interfere with the affairs of less advanced species. The
second half of "The Magician" (text story).36 pgs., full color. $0.12.
Cover price $0.12.
PAYMENT & SHIPPING TERMS
Payment is expected 1-3 days after the close of the transaction. We may elect to cancel the transaction and re-list this item if payment is not made
within that time frame.
US BUYERS pay $29.99 for shipping within the 48 states. California residents please add sales tax. International
shipping for this item is higher than for shipping within the US. International buyers please make sure to inquire about shipping options to your
address before making your purchase. .
INTERNATIONAL BUYERS. Shipping to international addresses cost more than shipping within the US. Please make sure to inquire about
shipping costs before you make any purchase. We use insured priority airmail as our default shipping method. Customs duties and fees may or may not apply to imports to your country and may add an additional cost to the buyer for this item.  These costs, if any, are the responsibility of the buyer. Please check with your individual country for any customs or duties.
PAYMENT OPTIONS & TERMS: We accept
PAYPAL.
Please check our other items at our Ebay Store at: American Icons Collectibles
We have many great items at our eBay store and we have hidden some real bargains for your viewing and
shopping enjoyment.
You can buy this item or many other great items now from our eBay store at:
American
Icons Collectibles

Check out our other eBay auctions!

Add Me to Your Favorite Sellers







American Icons Collectibles selling Collectibles Since 1989



OUR BUSINESS HOURS ARE M-F 11-7 PST Closed Weekends & Holidays