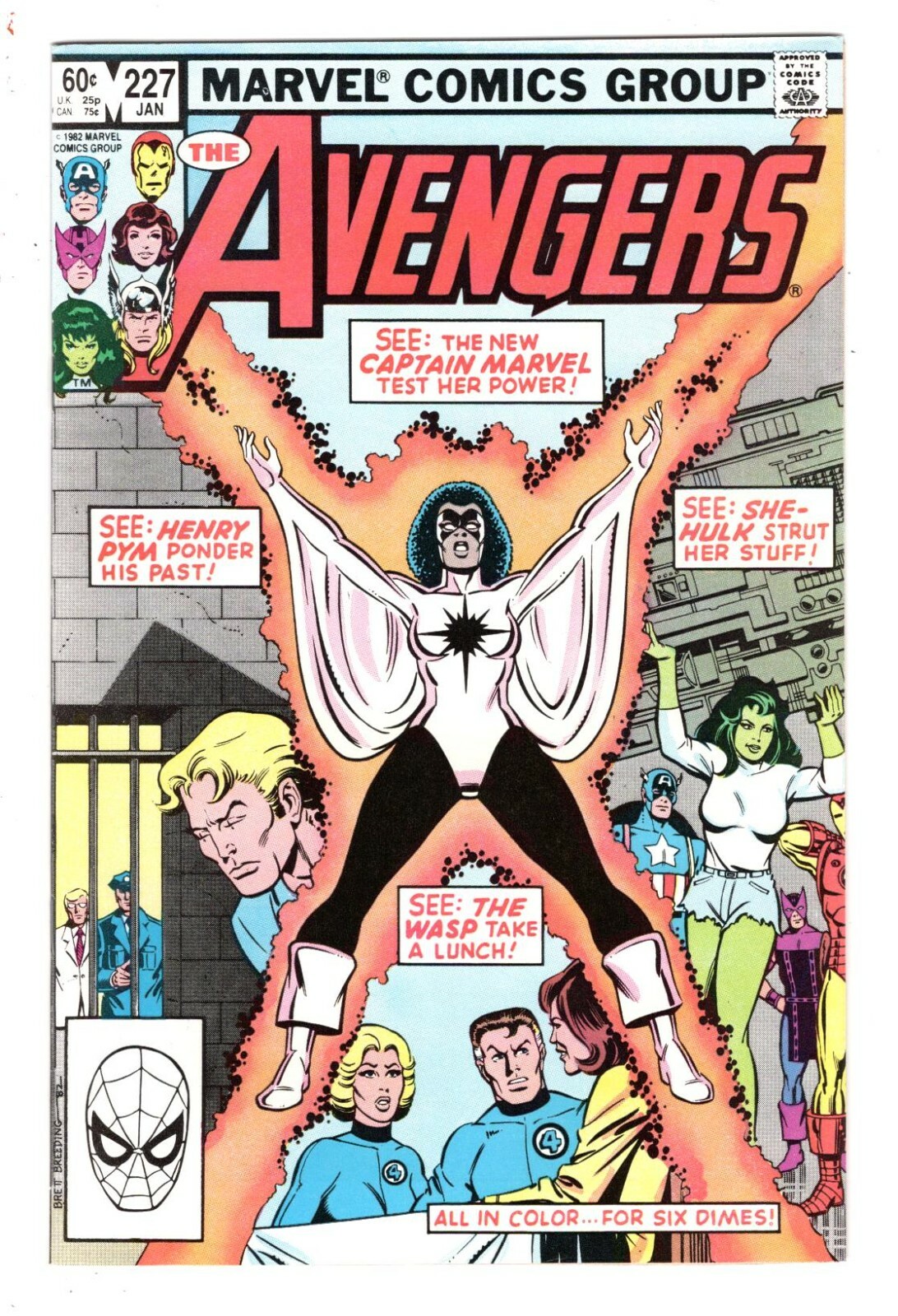 Price: 58.88 USD
Comic Book Details:
THE AVENGERS 227 (9.4) MONICA RAMBEAU THE NEW CAP'T MARVEL JOINS AVENGERS *




---
Avengers Comic Stuff
September 1963 gave birth to two of Marvel's greatest supergroups : The Uncanny X-Men and The Avengers, "Earth's Mightiest Heroes." Originally consisting of Thor, Iron Man, Ant-Man, Wasp, and the Incredible Hulk, the was soon joined by Captain America (in issue #4). Since then, it seems that virtually every Marvel super-hero has served as a one time Avenger. even such famous loners as Spider-Man have briefly served with this legendary fighting team.
Like a large corporation, The Avengers have even divisionalized, giving birth to the Great Lakes Avengers and the more famous West Coast Avengers. These teams operated independently, aithough they occasionally combined forces, as in the Infinity Gaunlet series, to fight a great enemy.

The issues that follow are remembered as Marvel classics. Here is an opportunity to own some affordable, High Grade copies of these early Avengers "classics", with only the most minor of imperfections allowable on these non-CGC graded comics.
---
Item Description Stuff
9.4 NEAR MINT (NM): Nearly perfect with only minor imperfections that keep it from the next higher grade. Minor feathering that does not detract from the overall beauty of an otherwise higher grade copy is acceptable for this grade. The overall look is "as if it was just purchased and read once or twice." (If you're careful with handling, there's no way to tell how many times a comic has been read, or if unread, so don't always believe that 'unread' hype.) Subtle bindery/printing defects are allowed. Bindery tears must be less than 1/16″ on Silver Age and later books, although on Golden Age books bindery tears of up to 1/4″ have been noted. Cover is flat with (almost) no surface wear. Inks are bright with high reflectivity and a minimum of fading. Generally well centered and firmly secured to interior pages. Corners are cut square and sharp with ever-so-slight blunting permitted. A 1/16″ bend is permitted with no color break. No creases. Small, inconspicuous, lightly penciled, stamped or inked arrival dates are acceptable as long as they are in an unobtrusive location. No soiling, staining or other discoloration apart from some slight foxing. Spine is tight and flat. No spine roll or split allowed. Staples are generally centered; may have slight discoloration. No staple tears are allowed; almost no stress lines. No rust migration. In rare cases, a comic was not stapled at the bindery and therefore has a missing staple; this is not considered a defect. Any staple can be replaced on books up to Fine, but only vintage staples can be used on books from Very Fine to Near Mint. Mint books must have original staples. Paper is (no worse than) off-white to cream, supple and fresh. No hint of acidity in the odor of the newsprint. Centerfold is firmly secure. Slight interior tears are allowed.

I use The Official Overstreet Comic Book Grading Guide to evaluate and grade all my comics sold/auctioned on eBay!

These Marvel comics are not always easily obtainable and tough to find period, especially with this exceptional degree of color and gloss and the outstanding spine/page quality. Everything else about this copy is rock-solid through and through, and would make for nice super HIGH GRADE for the collection!…Based on market research and popular demand my BIN price is $64.00… with FREE SHIPPING… feel free to contact me with any questions you may have about this item!
---
Inside Stuff
Creative Teams

Scripts – Roger Stern

Cover Art – Brett Breeding

Inside Art – Sal Buscema (pencils) Brett Breeding (inks)
Story Title

Testing… 1… 2… 3! Synopsis -The Wasp invites the new Captain Marvel to join as an Avenger-in-training
Appearance

Avengers [the Beast (flashback); the Black Panther (flashback); the Black Widow [Natasha Romanov](flashback); Captain America [Steve Rogers]; Captain Marvel [Monica Rambeau] (joins as member-in-training); the Falcon (flashback); Hawkeye; Henry Pym [as the Ant-Man; Giant-Man; Goliath; Yellowjacket in flashbacks] (origin); Hercules (flashback); the Hulk (flashback); Iron Man [Tony Stark]; Jocasta (flashback); Ms. Marvel [Carol Danvers](flashback); Moondragon (flashback); Quicksilver (flashback); the Scarlet Witch; She-Hulk; Thor; Tigra (flashback); the Vision (flashback); the Wasp; Wonder Man (flashback)]; Captain Marvel [Mar-Vell] (flashback); Dr. Paul Edmonds; Dr. Vernon Van Dyne (Janet's father); Edwin Jarvis; Egghead; the Elfqueen (flashback); the Guardians of the Galaxy [Charlie-27; Martinex; Nikki; Starhawk; Yondu]; Henry Peter Gyrich; the Invisible Girl; Maria Trovaya (flashback); Mr. Fantastic; the Plant-Man; Salvation I (flashback); S.H.I.E.L.D. Agents; Ultron (flashback); the Wizard
---
Terms, Conditions and Shipping Stuff


I've Guaranteed Satisfaction on all my items sold on eBay for the last 23-years (since my 1st sale…way back in 1998) and my single goal is to make you happy! Just like the asterisk in my eBay I.D. (smittys*stuff), from now on you'll always see them in my item titles…you can rest assure that there's "never a risk when you see the asterisk!" As with all my shipping fees INSURANCE IS INCLUDED. I now offer a 30-day return for full refund/exchange/credit/trade whatever makes you happy, but on winning-bid amount only!…all postage – non-refundable. Items must be returned in the same condition that I sent 'em. I accept CREDIT CARDS through PAYPAL (items will be shipped when payment is received), items ship in 24 hrs…happy? I will be glad to combine multiple items brought or won to save you $$$ on shipping fees! Buyer pays for shipping and a small nominal fee for handling/packaging, it take's time/effort to make sure your item gets to you in a safe/secure manner as my shipping & handling charges for items sold on my auctions ensure the lowest possible fee to the buyer. Most of the cost for handling fees actually comes from the expense of high quality packing, insurance/tracking, advanced product evaluation, product protection and rigorous quality control (I do check every page, cover to cover)…does that make you happy? FREE SHIPPING with BIN price only!
I can ship your item Media Rate/1st Class/Priority/Special Standard/Next-Day/Pony Express/Carrier Pigeon, whatever I can do to make you happy, besides…shipping costs really add up, that's why I give you the option. One more thing…insurance is included in the shipping fee (international shipments MUST be insured). Seller (that being me!) is not liable/responsable for uninsured items that are lost, stolen or damaged in the mail. Thanks for lookin' at my stuff!…Happy Hunting and Good Luck!
---
I am now a CGC member and can have your books graded. Any questions, please inquire!