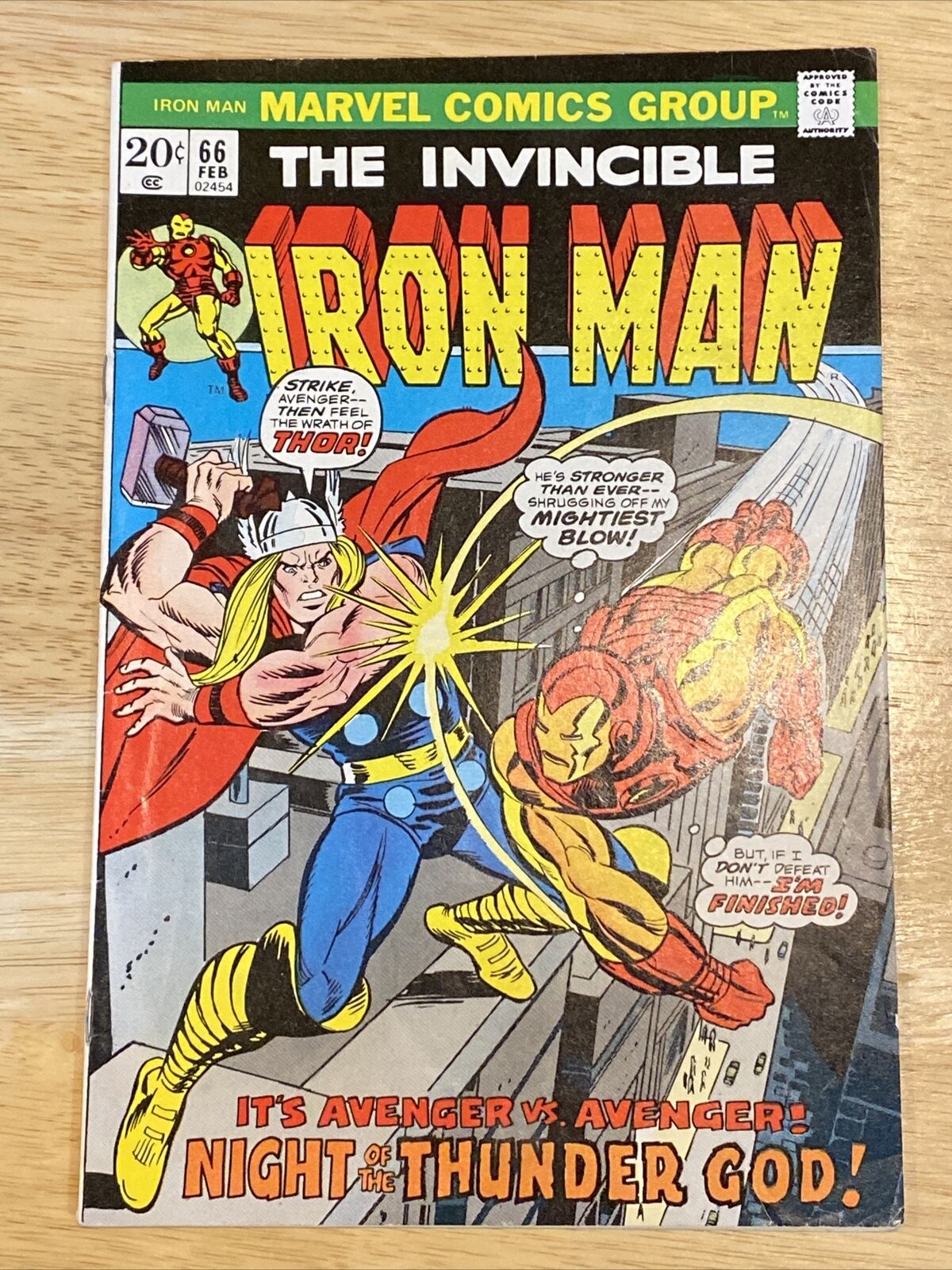 Price: 69.75 USD
Comic Book Details:
The Invincible Iron Man 66 February 74 Classic battle Iron Man v Thor




Comic Number: 66
Key Comic
Bronze Age
Classic battle of Iron Man vs Thor
Welcome to Hell Enterprises deals in Sports Cards, Sports
Memorabilia, Toys, Comics, Antiques and Collectibles
SHIPPING:
United States Postal Service Shipping Prices have
increased on January 21, 2021
 Why do we charge shipping?
Each of our items is bubble wrapped and placed into a
secure box to ensure your item arrives damage free and in the condition in
which we purchased / sold the item to you.
All Comics are placed in secure unbendable mailers to
ensure comics arrive in condition in which we listed the item.
We do not make any profit from our shipping
prices.
Welcome to Hell Enterprises reserves the right to update
shipping charges at any time
We will NOT ship to the following states per State Laws
banning large capacity magazines: Summary
of State Law. Nine states and the District of
Columbia have enacted laws banning large capacity
ammunition magazines: California, Colorado, Connecticut, Hawaii, Maryland,
Massachusetts, New Jersey, New York, and Vermont.
TERMS:
Our 30-day
return policy is not a 'no questions asked' return policy. Returns are only
accepted if an item is misrepresented in the items title/description/images,
email, or phone communication. Buyer's remorse is not a valid reason for
return. We strive to be reasonable in the event of a disagreement and ask that
buyers afford us the same level of fairness. Misrepresentation of an item is
exceedingly rare.  Returned items must be received back in the condition
they were received. Original shipping will be refunded along with the full
purchase price upon receiving back a returned item.
I DO NOT
OFFER BUYER REMORSE RETURNS. I WILL ONLY ACCEPT A RETURN IF AN ITEM IS DAMAGED
OR EXCESSIVELY LATE DUE TO A MISTAKE ON MY PART. PLEASE ONLY BUY IF YOU ARE
TRULY INTERESTED IN MAKING THE PURCHASE. 
Thank You
Again For Your Business and for those of you who have been Loyal Customers,
THANK YOU very much for your Continued Business.
 Kirk
 We love to
hear from you and your feedback is VALUABLE to us!  Happy Buying
 100% Positive
Feedback, Buy with Confidence!!!!
Pictures show condition of the
comic, some comics may have spine breaks, creases, or print ink smears. Any
flaws will show in the pictures we have taken. We are not comic graders, please
do not ask for estimated grade of any comic. Pictures are part of the
description